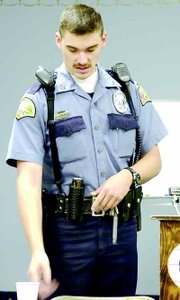 Knowing how to keep your home safe from burglary is the first step to reducing the problem in the community, according to Sunnyside Police Department Officer Scott Bailey.
A 9-year veteran of law enforcement, Bailey spoke to members of the Sunnyside Kiwanis Club Thursday morning about preventing burglaries at their homes.
"If a person has their mind made up to break into a house, they're going to do it," said Bailey. "What you want to do is make it as difficult to get in as you can."
Bailey estimates that more than 90 percent of the home burglaries in Sunnyside occur when the family is not at home. A great number of burglaries in Sunnyside also occur at night.
He explained that burglars usually only take items they can carry and easily conceal while walking down the streets.
"Most of them don't have cars and trucks they use to load up items," he said.
One of the biggest deterrents to home burglary is lighting. According to Bailey, it is also the one thing they see the least of at local homes.
"Try not to keep lighting just at the front of the house," said Bailey. Lighting that shines into dark spots of the yard and at each door is important. Motion sensored lights are a good investment, said Bailey, since criminals aren't always sure if the light went on by itself or if someone is awake in the house.
The key is to keep lighting at a height that criminals can't reach or place protective covers over, so they can't be disabled, said Bailey.
He suggested that rather than hiding a key outside under a rock, to leave a spare key with a trusted neighbor.
Bailey added that adding a locking deadbolt, which requires a key to unlock it from the inside and the outside, is also a deterrent.
"They may come in a window, but they want to go out a door," said Bailey. "I've often seen stuff dropped in a hallway because they didn't want to carry it out a window."
Bailey said making sure valuables aren't visible from windows is also important to keeping a home free from burglary.
"Also make sure when you're away your house still looks occupied," he said.
Automatic timers attached to lamps and radios will give the impression that someone is home.
Alarms and alarm signs also deter burglary because they draw a lot of attention.
"You definitely want the noise inside and outside," said Bailey. "Anything you can do to make it more uncomfortable, the better.
When new items are bought for the home, such as cameras, stereos, televisions and gaming units, dispose of boxes on garbage day so that people don't know what is in the house. Bailey suggested keeping a manila envelop of owner's manuals with serial and model numbers written on them. He said if an item is stolen it is easier to report it to the police and officers have an easier time identifying stolen property if they know the serial and model numbers.
Bailey said that the police department also has an engraver that it loans out, which can be used to mark electronics.
He suggests people place WA, indicating it's from Washington state, and their driver's license number on items.
Rather than keeping keys on a hook next to the door, Bailey said people should find another place to store their keys. He said last week a burglar took keys off a hook next to a door and attempted to steal a truck. Fortunately, he said the truck owner had been having some battery problems and had taken the battery to the store to replace it.
Bailey also suggest cutting back trees and shrubs that block the view of the house, which provide hiding places for burglars.
He added that if there is a market for stolen goods people will continue to burglarize homes.
"Don't buy stolen goods," he said.
The police have to prove malicious intent and that a person knew they were buying stolen goods when they purchased an item if they are found with it, said Bailey.
But, he added, "If it's too good to be true, it probably is."