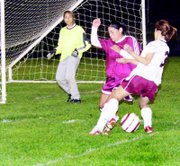 GRANDVIEW - Grandview came out of the gate on fire Thursday night, scoring the first of two goals against Toppenish in the first few seconds of the game. The goal would ultimately help the Lady 'Hounds defeat the Wildcats, and get them one step closer to postseason play.
The Grandview girls soccer team won over the Wildcats 2-0. The game marked senior night for the Lady 'Hounds and their last game of the regular season under the hot lights of the football stadium.
Grandview Coach Anne Holden said the victory was nice for the team's seniors, adding that both goals were scored by seniors.
Jessica Rodriguez scored the first goal of the game in the first 10 seconds against the Wildcats, said Holden. She scored unassisted. Grandview's second goal was scored by senior Akane Tomizawa in the 22nd minute of the match-up. She scored off of an assist from Rodriquez.
Overall, Grandview had 14 attempts on goal for the night, compared to one attempt by the Toppenish team.
Holden said her team played well against the Wildcats, noting that they have really stepped up their game in recent match-ups.
She said her team has also been very supportive of each other, noting that even with several position changes in recent games team members are continuing to push forward and look for the win.
"They've all contributed in their own way," Holden said of her team members.
Holden said she thinks one big difference has been the recent move of Rodriguez from goalkeeper to midfielder. She said bringing her up front has given the team a new confidence.
"It's changed the whole approach," Holden said.
The Grandview team (3-7, 4-9) has two games left in regular season play. Holden explained that if the team can win against Othello next week, they will be tied for the fourth seed to Districts. The tie will mean the two teams will have to face off to determine who will go into the postseason.
Holden said the last few wins her team has pulled off has put the Lady 'Hounds in the driver's seat when it comes to the postseason. She explained that they don't have to rely on another team's performance to make it to Districts, instead they just have to win.
"It's up to us," Holden said.
The Grandview team will take to the field Saturday against East Valley at home.