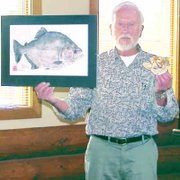 When Bob Harwood has a fish story to tell, he brings along proof of his catch. A passionate fisherman prone to exploring dark backwater fishing holes, Harwood is also an artist.
He decided to combine his favorite things following his retirement from the Washington State University Experimental Station in Prosser 12 years ago.
"I thought I'd like to take up water colors," said the retired entomologist. "Then I discovered an art form called gyotaku, the Japanese art of fish rubbing," he said.
Harwood soon discovered his love of fishing and his new hobby was an obsession.
Thursday, the athletic, older man shared his passion for fish and art with the members of the Lower Valley Nouvella Club, at the group's monthly luncheon held at Snipes Mountain Brewery and Restaurant in Sunnyside.
Harwood presented slides from a recent fishing trip to the jungle tributaries surrounding the Amazon River in Northern Brazil, as well as samples of his rubbing resulting from that fishing trip.
Harwood explained that fish rubbing naturally include catching the fish first. He has made rubbings from most North American fish and now has made rubbings from more than 18 varieties of Brazilian fish. "There are more than 2,000 varieties of fish swimming in the South American waters, so I have few more to go," he said.
Among his favorites and the most colorful of his artistic examples of gyotaku are of the exotic butterfly peacock bass, the royal peacock bass, the white piranha, a type of South American sun fish called jacunda, bicudo, arawana and a spotted fresh water stingray, which he caught from the shores of Rio Agua Boa and Rio Branco, north of the Amazon. He said it is difficult to mimic the colors found in nature, but he takes a photograph of his catch to help fill in the proper colors. Harwood prefers to use color pencils to recreate the delicate colors of the fresh water fish outlined on the rice paper he uses as his canvas.
The colors range from the chocolate brown of the South American catfish to brilliant hues of the spotted peacock bass so named because of the distinct red and yellow bull's eye marking on its fins.
He said the fish are not just pretty. "They are frisky to catch, and good eating," he added.
Not content to just make rubbings on rice paper for exhibition and sale, Harwood has recently developed a line of coffee mugs covered with his fish renditions, as well as wall hangings. Some of his work is on display and for sale at Prosser's Hang-up Gallery.
Harwood said he has also fished in Bolivia, where he found a number of fish to immortalize in gyotaku.