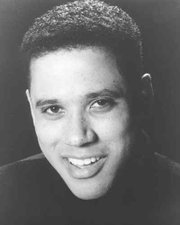 Robert Simms, the first performer in the 2004-05 Lower Valley Community Concert Series, will be singing African American spirituals, as well as Broadway show stoppers on Thursday, Nov. 4, at 7 p.m. in the Sunnyside High School auditorium.
Simms, a Gold Medal winner of the Enmark American Traditions Competition, has been hailed by critics for his "rich luxuriant tone," "energetic performances" and "convincing stage presence." He has performed at the Smithsonian Institute, the Los Angeles African-American Museum, Grace Cathedral in San Francisco, the Chicago Historical Institute, and at many colleges and universities throughout the United States.
Season tickets for the 2004-05 Community Concert Series, hosted by the Lower Valley Community Concert Association, will be available at the door.
This year's series includes Smith & Adams, a cello and guitar duet on Jan. 16, 2005; Westwind Brass, a brass quintet on Feb. 28, 2005; Alpin Hong, pianist, on March 22; and Baroque Northwest, April 16.
Season adult tickets are $40, student tickets are $15 and family tickets (two adults, two students) are $85. One night performance tickets for the Simms concert are $25 each.
The doors will open at 6:30 p.m., 30 minutes prior to the concert.
For further information about this concert or the 2004-05 series, call 786-3070 or 837-7054.