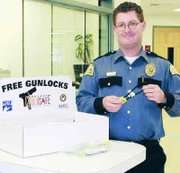 More than 1,000 guns in the Lower Valley could be made safer if people take advantage of Project Childsafe and the 1,300 gun locks that are available free of charge at the Sunnyside Police Department.
Late last week, the local police department received a shipment of gun locks from Project Childsafe, an initiative that will have distributed 670,000 free gun locks to citizens throughout the state. The initiative reminds gun owners to take steps to prevent a loaded gun from falling into the hands of a child, helping to prevent tragic accidents.
Sunnyside Police Capt. Phil Schenck said quite often people don't go through the process of applying safety devices to guns when they have them in the house. He added that with more parents working during the day, there are often times children left at home unsupervised.
"These kids are quite often likely to handle the gun when parents don't know about it," Schenck said.
And this is the type of activity that simply taking the time to apply a gun lock can help prevent.
Schenck explained that the type of gun locks available at the police department are simple devices that thread a cable through the action of the gun. He said this prevents the hammer from striking the bullet.
"It will work on almost any type of gun," Schenck said. He added that the gun lock comes with an information packet that outlines where the lock is applied to different types of guns.
The gun locks are available in the lobby of the Sunnyside Police Department until supplies last.
Project Childsafe is an initiative made possible through the National Shooting Sports Foundation, Lieutenant Governor Brad Owen, U.S. Attorney James A. McDevitt, the Washington Department of Fish and Wildlife and local law enforcement agencies.
.