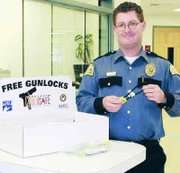 MOXEE - The Grandview Lady Greyhounds absorbed a tough loss Saturday, losing to East Valley on a penalty kick.
The Lady 'Hounds lost to the Red Devils by a score of 1-0.
Despite the loss, Grandview Coach Anne Holden said her team played good soccer Saturday in Moxee.
"We played an excellent game," Holden said. She noted that East Valley had only one more shot on goal than the 'Hounds did during the game. The Red Devils had 6 shots on goal, compared to five attempts by Grandview.
Holden said the team's goalkeeper, freshman Anna George, did a good job of defending Grandview's goal.
"She just played brilliantly," Holden said of George.
The penalty kick that put the Red Devils ahead of Grandview came on a 50/50 attempt for the ball. Holden said sophomore Alison Grow was called for unfairly challenging.
Overall, Holden said she was very proud of the way her team played Saturday. She noted that the team played very well despite the loss.
Putting in good showings for the Lady 'Hounds were senior Jessica Rodriguez in the front and juniors Ai Tomizawa and Jackie Villanueva at mid-field. Holden said last time the Lady 'Hounds went up against East Valley, the Red Devils were able to cut up the middle. Thanks to the efforts of Tomizawa and Villanueva that was not the case Saturday.
The loss to East Valley means that tonight's match-up against Othello is a must-win situation for the Lady 'Hounds. Holden said Grandview needs to win during regulation or in overtime for the victory to give the 'Hounds a chance at going to Districts. If they win in a shoot-out situation, Othello will advance to the postseason.
Holden added that if her team wins tonight, they will go on to challenge Othello again in a tie-breaker situation on Tuesday. The winner of that game would then take the fourth seed into Districts. Holden noted that the playoffs begin Thursday.
Grandview will take to the field tonight at Othello.
. Elena Olmstead can be contacted at (509) 837-4500, or e-mail her at eolmstead@eaglenewspapers.com