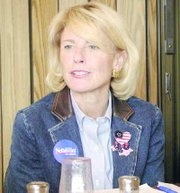 On the campaign trail for her husband, Mary Beth Nethercutt stopped in Sunnyside Friday afternoon to speak to a group of women about farming, finance and women's issues.
Nethercutt's husband, Congressmen George Nethercutt, is seeking Patty Murray's position in the U.S. Senate.
Mrs. Nethercutt, said her husband is standing on his voting record that has been positive for Washington state, which includes supporting farmers and supporting the dams when the push was to remove them.
"He's also in favor of an energy policy," said Mrs. Nethercutt. "Our current senator has voted against a common sense energy policy."
She said that her husband has been able to reach across party lines and work with both Republicans and Democrats alike to accomplish things that are good for the country.
"You can't get everything you want, but if you can get 75 or 80 percent, then that's good," said Nethercutt.
She said her husband's opponent has repeatedly voted to filibuster, which keeps debate on a topic from ending so that even a preliminary vote can't get to the Senate floor. The judges nominated by President Bush is one of the issues that hasn't been voted on.
"Approve or disapprove, but at least vote on it," she said.
"George has a great voting record. He's got a great record on the issues," she said.
Unfortunately, she added, a lot of bills come out of the House and are "...buried in the graveyard of the Senate."
Besides stem cell research, Nethercutt said her husband is in favor of drilling in the Arctic. She said that when super-imposed over the continental United States, Alaska covers about 1/3rd of the country. She explained that when they talk about drilling they are only talking about touching 2,000 acres of 19 million acres of pristine wilderness.
"Until we have energy independence we are going to be held hostage at the fuel pumps," said Nethercutt.
The South Carolina native added that her husband supported the dams in Washington state when there was a push to remove them.
George Nethercutt has also been instrumental in working with the Bush administration to develop a research facility at Washington State University that would be able to test for Mad Cow Disease, she said.
"The next closest facility is in Iowa," said Mrs. Nethercutt.
She added that her husband is also in favor of capping the amount that can be paid out for pain and suffering in lawsuits against doctors in the state. She said that Washington is losing talented physicians and it is not only the rural communities that are feeling the brunt of the shortage. At a rally in Spokane last week, she said a woman who is due to have a baby in February spoke about her needs of a obstetrician. She shared that this is her third child and third obstetrician, the others have left the state. Nethercutt said that she is hoping her doctor will still be practicing when her baby is due.
"Doctors are worried about being sued," said Nethercutt. "They will run more tests than their heart or mind tells them they should, and that drives up costs."
One of the most frustrating aspects of the election is the incumbent senator's reluctance to debate the issues. She said her husband invited Patty Murray to debate in each of the counties in the state. Murray agreed to two debates, said Mrs. Nethercutt.
Both were also invited to the Downtown Seattle Rotary Club for a debate, but only Nethercutt attended, because Murray said her schedule was too busy, said Mrs. Nethercutt.
She added that when Nethercutt went up against Speaker of the House Tom Folley, there were nine debates. Minority Leader Tom Daschle participated in seven debates.
"There must be a reason she doesn't want to talk about her voting record," said Mrs. Nethercutt.
.