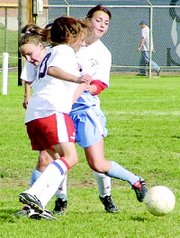 In the final regular game of the season, the Sunnyside High School girls soccer team lost 7-0 to the leading team in the Mid Valley League, the West Valley Rams.
Sunnyside Coach Kathy Jolliff said a combination of the referee team being a line ref down and missing calls and Sunnyside's lax playing led to the defeat.
"They didn't step up to their ability," said Jolliff of her players.
Sunnyside finished the season with three tough games in a week. The girls lost to Hanford Tuesday, Prosser Thursday and West Valley Saturday.
West Valley came out strong. In the first half the Rams scored three goals. Amanda Brusic scored the first goal in the sixth minute with an assist from Allison Craven. In the 18th minute with the help of Kirstie Munson, Shannon Myers scored the team's second goal. Myers scored her second goal of the game in the 37th minute. She received an assist from Janae Godoy.
Starting out the second half, Craven fed the ball to Brusic for a fourth goal. Three minutes later Myers recorded a hat trick, scoring her third goal of the game with an assist from Brusic. In the 58th and 74th minutes of the game Stephanie Dusin and Nikki Roux netted two penalty kicks for West Valley.
Jolliff said it was a frustrating game because in many ways they had two opponents, the West Valley team and the referees.
One of the penalty kicks called on a Sunnyside player came when a West Valley girl knocked over the Sunnyside sweeper, said Jolliff, who added that the West Valley girl was still standing with the ball when the call was made.
The other penalty kick was awarded after a defender bumped an opponent from behind.
"Any other game in the season and that wouldn't have been called," said Jolliff.
She said that with another line judge the score could have been closer. She believes neither of the penalties would have been called.
"They also had at least one goal for sure that was offsides," she said.
Sunnyside keeper Victoria Solis had 15 saves for Sunnyside. West Valley made 24 shots on goal.
The Sunnyside team made 10 shots on goal and the West Valley keepers made three saves.
"The girls were playing some really good soccer last week," said Jolliff. "Unfortunately, they just didn't keep their heads in the game like they should have."
The Sunnyside team (4-8, 5-10) will begin District play this Thursday.
.