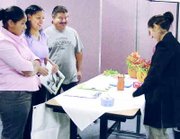 Monday night, the Sunnyside City Council unanimously approved four consent agenda items, which don't warrant discussion before the voting takes place.
The consent items that were passed through included approving the minutes of the Sept. 27 and Oct. 6 meetings, approving a list of vouchers for payment in the amount of $391,502 and approving a request by the American Legion and VFW to close Ninth Street, from Edison Avenue to Franklin Avenue, from 10:30 a.m. to noon on Nov. 11 for a Veterans Day observance.
One consent item that was on the agenda-a request by the chamber of commerce for assistance with the annual lighted farm implement parade on Dec. 4-was pulled at the request of Councilman Don Vlieger. He questioned the $600 that will be spent in overtime pay for the police department to provide security at the event.
"Do we set a precedent when we charge for one parade and not another," Vlieger asked his peers.
Assistant City Manager/City Attorney Mark Kunkler said it is his understanding that the policy has been that the city does not charge organizers of similar events for police security.
Sunnyside Police Captain Phil Schenck added that his department has typically absorbed the costs.
The Council, without much fanfare, went on to unanimously approve the chamber's request for assistance.
Beautification winners named
The Sunnyside City Council Monday evening congratulated the latest winners of the community beautification awards.
The awards are presented on a monthly basis to homeowners and merchants recognized for maintaining an attractive exterior at their respective home or business.
The latest award winners include Juan and Martha Chavez for their home on Dennis Avenue, Bob and May Moore for their home on Olive Avenue, and the Best Western Grape Vine Inn.
Annexation proceedings OK'd
The Sunnyside City Council unanimously approved annexation initiation proceedings by a large group of residents living in the area of Saul, South Hill and Thornton roads.
The original annexation request came from four lot owners, but has since grown to include the owners of 27 lots or homes.
"This is one of the largest (annexation) petitions we've ever received," said Mayor Ed Prilucik.
The area in question is being proposed as a "mini ranchette" zone.
Councilman seeks Black Rock signage on I-82
Councilman Bruce Ricks Monday evening formally asked city staff to look into what needs to be done to get Black Rock signage added to the exit 69 sign along I-82.
The signage, he said, would point out the exit that leads to both the proposed Black Rock Reservoir and Black Rock Creek Golf Course.