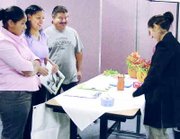 Rep. George Nethercutt and his wife, Mary Beth, will be stopping in Sunnyside for a rally Wednesday afternoon.
Nethercutt will be in Sunnyside for one of his last campaign drives as election day nears.
The Sunnyside rally will be Wednesday, Oct. 27, from 12:45 to 1:10 p.m. at The Sunny Spot Restaurant, 1850 Yakima Valley Highway, Sunnyside.