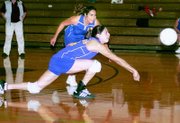 The Mabton Lady Vikings took home their first victory of the postseason Tuesday night. The Vikes were able to push past Trout Lake, winning in five.
The Mabton team defeated Trout Lake by scores of 25-20, 25-17, 23-25, 20-25, 15-12. The victory is Mabton's first at Districts, which opened at Sunnyside Christian High School yesterday.
Despite the win, Mabton Coach Olivia Mendoza said her Lady Vikings didn't play as well as they can.
"We did not have a good night, but we were able to pull it off," Mendoza said.
She said her team was having trouble passing and missed a lot of hits.
"A lot of them went really long and out of bounds or they hit the net," Mendoza said of her team's hits.
Mendoza said Mabton's performance was a little different than usual, noting that typically the team starts out a little slow.
"But last night we won the first two," she said.
Helping the Lady Vikings come back for a victory over Trout Lake was sophomore Alida Mendoza.
"She did really well all the way through and her passing was good," the coach said of Mendoza, who had 12 kills, 6 aces and 2 blocks for the night. "She was pretty on," the coach added.
Also playing well for the Mabton team was junior Michelle Tellez with 7 kills and 2 aces, and Rosa Reyna with 5 kills and 4 aces. Helping at the net for the Vikes was freshman setter Josie Chase, who had 20 assists and 2 kills against Trout Lake.
The win over Trout Lake will mean that the Mabton team will be going up against Riverside Christian High School Saturday morning in Goldendale.
"If we play well, the way we can, it's very possible we can beat [Riverside Christian]," Mendoza said. "But we have to be playing our game."
The Mabton team will go up against Riverside Christian Saturday at 11 a.m. in Goldendale.