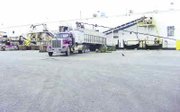 GRANDVIEW - The employees of Grandview Foods, LLC and Barrett Business Services have voted to unionize.
The plant, which is located near the corner of Grandridge and Second streets in Grandview, has exchanged new ownership several times over the past four years, according to Teamsters Local 760 secretary/treasurer John Parks. He said in the past the employees working at the plant have been unionized, but this is the first time they have been organized since the most recent ownership switch.
Parks said the majority of the people working at the plant have worked there under a union contract before. Parks said the workers still voted 97 to 4 last Thursday in favor of unionizing, despite attempts by the owners to stall a vote.
The unionization campaign began early last summer, according to Parks. He said a group of employees contacted the union, asking to be organized. Some of the concerns, according to Parks, are wages, working hours, working conditions and seniority.
Under the way the company is operated, Barrett Business Services employs the production workers, and janitorial and management are employees of Grandview Foods. He said that during processing nearly 300 people work at the plant.
He said 273 people are on the excelsior list, which was created after four days of hearings by the National Labor Relations Board. The excelsior list is the number of employees on the payroll when a decision is made by the National Labor Relations Board.
He said that the people on the excelsior list were allowed to vote in the election. Parks said 170 ballots were cast in the election, but the company challenged 69 of the votes because the employees had been laid off two days prior to the election.
Parks said the 69 votes were not enough to change the vote, which was 94 in favor of unionizing and 4 against it.
"Even if all 69 votes were for the employer, it wasn't enough to change anything," he said.
Currently, the union is waiting for the end of a five-day appeals period. Once the unionization has been certified, Parks said the Teamsters will begin looking at how business is done at Grandview Foods, so that the negotiation process can begin.
"The workers at Grandview Foods have spoken loudly and clearly," said Parks. "We are now going to negotiate a contract that will honor their trust in the union."
More like this story