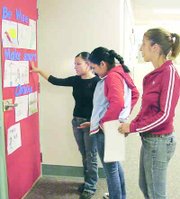 MABTON - Whether it's wearing comfy pajamas to school or crazy socks, the signs of support for Red Ribbon Week have put smiles on the faces of Sarah Appling, Sophia Beltran and Angela Lupercio.
The three Focus High School students have been instrumental in the development of Red Ribbon Week activities in the Mabton School District this year, designed to discourage drug use.
The girls know what it is like to skip school, to get high and to drop out of school. In many ways it is what led them to Focus High School, an alternative school, which gave them a second chance at education.
What they hope to do this year is convey a message, especially to the younger kids in the Mabton School District, that they don't need to do drugs.
Appling said she knows of elementary school aged children who talk about doing drugs.
"That's the biggest problem in our community," Beltran added.
The girls each had a chance to share their stories with elementary aged students Thursday morning. Skits were also performed.
"I think if they hear from us, being teenagers, it will make a difference," said Beltran. "I know how little kids are. Little kids look up to us. We see ourselves and I don't want them to end up like me."
"We're showing them that getting high is not cool and we're showing them they don't have to do drugs," said Appling.
The three girls, who are now back on the educational track, hope to prevent those younger than them from ending up in their situations. They hope that Red Ribbon Week activities will help the younger kids make good decisions in their lives.
Beltran said that she can't go back to the regular high school. A senior at Focus, she dropped out of Mabton High and made a name for herself in the community, one that hasn't been easy to shake.
"People still look at me and think druggie and other things," said the former Miss Mabton.
"It's not like you can go back," she added.
Learning from their teacher Stephen Busby, that "opportunity dies when it is neglected," they took this opportunity to give other kids in the community a chance to start off right and not get involved with drugs and alcohol.
The three girls came up with a list of ideas to promote Red Ribbon Week in Mabton. Students are dressing up, pledging to be drug free by signing bricks, which are making up a wall at the high school, and the younger students are participating in coloring, essay and poster contests.
This morning multi-millionaire Rich Post will be speaking to the elementary aged students. According to Beltran, Post formerly sold drugs, was sent to jail twice but has changed his life.
"He's making his life doing something other than selling drugs," she added.
This week the girls have each had a favorite project they have undertaken. Although it has been chilly, they all agreed that decorating the town with red ribbons has been fun.
Appling has enjoyed gathering pledges to be drug free from high school students and handing out the red ribbons, as has Beltran.
For Lupercio, the best part of the project was presenting ideas for activities to the youths at Artz-Fox Elementary School.
"They were all pumped," she said.
Since their first visit to the school, Beltran said, younger kids have approached them on the streets, asking the girls to pick their classroom to be the winners of an ice cream party.
"I think it's important to get the message out," said Lupercio of Red Ribbon Week. "A lot of the younger kids don't realize what they are doing when they get involved in drugs. It's been difficult, but fun."