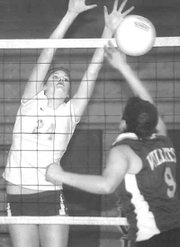 GRANDVIEW - The Grandview Lady 'Hounds finished the regular season with a quick victory over the Toppenish Wildcats Thursday night.
The Lady 'Hounds won over Toppenish in three with scores of 25-5, 25-4, 25-6.
Grandview finished CWAC play undefeated. The Lady 'Hounds won all 12 of their league matches by 3-0 scores.
Grandview Coach John LaFever said last night marked the first time all season he has played every girl on the team during a match.
"They played pretty well," LaFever said of his team's performance. "They are stepping up and getting ready for Districts."
LaFever said his team is trying to step up the intensity as they get ready for Districts next week.
"We wanted to get the intensity of our group up for Districts," he said. "That's where our focus is."
LaFever said underclassmen Christine Penwell, Logan Desserault and Danika Martinez played well for the team yesterday.
"They did a good job," LaFever said.
Penwell finished the night with 2 kills and 1 block, Desserault had 1 kill, 1 ace and 5 service points, and Martinez had 2 service points.
Also doing well for the Lady 'Hounds was sophomore setter Chante Bottineau. LaFever said she has been playing really well all season. Bottineau had 3 kills, 12 service points and 19 assists against the Wildcats.
Also helping the Grandview team push past Toppenish was Danelle Cowan, who had 7 kills, 2 aces, 8 digs and 2 blocks for the night, as well as Valetina Solis with 9 kills, 1 ace and 2 blocks, Kealey Johnston with 3 kills, 6 service points and 10 digs, Angie Cabrera with 1 kill and 4 digs, Mari Cornejo with 4 kills, 5 aces and 10 service points, Beth Clapp with 4 service points and 2 digs, and Tonhya Wysong with 14 digs.
The Lady 'Hounds (12-0) will play their first postseason match in Grandview Thursday, Nov. 4, at 6 p.m. against Cascade. LaFever said his team will be playing for a berth to State, explaining that four of the eight teams in Districts will move on to the State tournament.