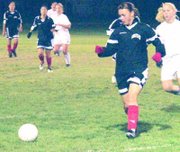 SELAH - The Sunnyside High School girls soccer team's season is over after losing 5-0 to Selah in a loser out District match-up Thursday night.
"The girls played a great game," said Sunnyside Coach Kathy Jolliff. "We had a couple of let downs or breakdowns and they got the best of us."
Sunnyside was able to fend Selah off the first 31 minutes of the game, but league leading scorer, Selah's Caitlin Bersing, fired the first shot into the back of the net in the 32nd minute.
"We dominated the offense the first half," said Jolliff. "We got a lot of shots off."
Four minutes later Ray Wright fired a second goal past Sunnyside's Victoria Solis, bringing the score to 2-0 at half-time.
Selah's Aly Cote netted a goal in the 46th minute of the game and came back to score again in the 50th minute.
Rounding out Selah's offensive strike against Sunnyside, Bersing came back with another goal in the 71st minute.
"She's not the leading league scorer for no reason," said Jolliff, who added that as long as they were able to keep her under control they did well in the game.
"Selah's an interesting team," said Jolliff. "You can battle them but if you let them score their momentum builds."
Defensively, she said the Sunnyside team was a bit flat.
"We had a great last game, though," said Jolliff. "We had 14 shots on goal and they had 16."
She said she was pleased with the team's overall effort, adding that the mid-field did an outstanding job.
"I was extremely pleased and yet sad," said Jolliff. "I have three seniors, two of which I have been working with since they were eighth graders."
The Sunnyside team ended the season (4-8, 5-11).
.