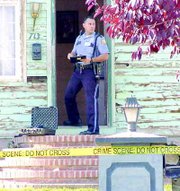 A shooting Thursday afternoon has left an 11-year-old Sunnyside girl dead.
Sunnyside police officers responded to a shooting incident at 713 South Fourth Street on Thursday afternoon, according to Sunnyside Police Officer Jim Ortiz. Ortiz said the initial call had officers responding to an attempted break-in at the residence.
Sunnyside Police Chief Ed Radder confirmed the name of the victim at the scene Thursday afternoon as Nora Gonzalez.
Ortiz said that officers arrived at the scene to find Gonzalez with a gunshot wound to her forehead.
"It is tragic," said Ortiz. "It was something that could have been prevented."
Ortiz said the incident is even more tragic since Gonzalez had only turned 11 years old on Oct. 22.
Gonzalez was transported to Sunnyside Community Hospital. She was later taken to Harborview Medical Center in Seattle, where she died later in the evening.
Ortiz said Gonzalez and her 16-year-old brother and 14-year-old cousin were not in school. The place where the incident occurred is the residence of the 14-year-old cousin, said Ortiz.
It is believed Gonzalez was shot in the forehead with a small caliber handgun by her cousin, said Ortiz.
Ortiz had limited information on the case this morning as it is being handled by the detective unit within the Sunnyside Police Department.
The initial report given by the two boys is that someone was trying to break-in to the residence. That report was proven wrong upon further questioning, said Ortiz.
Ortiz said Gonzalez's cousin was taken into custody and is currently being held at the Yakima County Juvenile Detention Center. Gonzalez's 16-year-old brother is not in custody.
According to representatives of the juvenile division of the Yakima County Prosecutor's Department, Gonzalez's cousin was to have had a preliminary hearing today (Friday) at 1:30 p.m. The cousin has not officially been charged yet, according to officials at the prosecutor's office. Prosecutors did say the Sunnyside Police Department has requested first degree manslaughter charges against the cousin.
In response to the incident, the Sunnyside School District implemented its lockdown protocol. John Hughes, director of safe and effective schools, said each building went into lockdown sometime between 1:30 and 2 p.m. Under the lockdown procedures, students were confined to the school buildings.
Hughes said the district has had such protocol in place for the past three years, as part of its crisis management plan.
"We just react to situations as we feel is necessary," said Hughes.
Hughes said in such cases as yesterday's shooting the district implemented the lockdown to ensure the safety of district students.
The school district is offering counseling services to students at Chief Kamiakin Elementary School, where Gonzalez was a sixth grade student. Hughes said Gonzalez has been a student in the Sunnyside School District since she was in kindergarten and has a lot of friends who may need counseling.
.