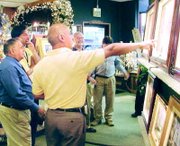 After many attempts to create the perfect marketing strategy for their specialized product, Sunnyside's Lloyd and Ellen Phinney have discovered two important things.
Men are the big ticket buyers in most families and most Sunnysiders are unaware that the Knothole Gallery on Yakima Valley Highway offers one of the few places in Eastern Washington where the popular Thomas Kinkade paintings can be purchased.
Those two important points were discussed during the first of a new series of Sunnyside Chamber of Commerce after hours events held Tuesday night at the Phinneys' business, located next to the China Grove Restaurant.
"Our target demographic is men, especially those who watch golf," said Mrs. Phinney.
"Women look at our paintings. They love them, but it is the men who come in and buy the large ticket pieces," she said.
"Women always tell me they have to ask their husbands before they can spend upwards of $1,000 per painting," she explained.
"They do buy a lot of our smaller, less expensive items," she added.
The couple told the more than 25 people attending the Chamber event they launched a number of advertising campaigns before settling on a television advertising campaign, which is finally yielding the desired results, Mr. Phinney said.
"We get our best response from our spots which run closest to sporting events, like golf, and new programs, such as 'Good Morning America'," he explained.
The couple said they get a lot of business from the Tri Cities and Yakima areas. "But we continue to hear a lot of people say they were unaware we were here," said Mrs. Phinney.
"We are happy so many of you decided to come and see us at this event," she added.
Choosing the Knothole Gallery as its first host for the Chamber after hours event was a matter of the Chamber wanting to help promote a local business and the need to launch its new membership program, said Kathy Corliss, the Chamber's director of promotions and tourism.
"Lloyd and Ellen Phinney came to us asking what they could do to make more Sunnysiders aware that they are the Thomas Kinkade dealers in town. Asking them to host this event also fell right into our plan to reinstate the after hours program," she explained.
"I'm pleased to see so many new faces at this event," she added.
The long-time Sunnyside couple originally opened their business in the Sunnyside Mini- Mall, but soon found they needed a location with more curbside exposure. Their current Yakima Valley Highway location offers the couple that exposure, as well as additional room for larger displays of the Gallery's paintings and related products. Open six-days-a-week, the couple also makes use of the Internet to help advertise their business. They also make use of an extensive mailing list, said Mrs. Phinney.
"We currently have 1,200 people on our mailing list, who can look forward to getting the Thomas Kinkade Gallery Christmas catalog in a few weeks, she added.
In addition to learning more about the Phinneys' gallery and the extensive line of Thomas Kinkade projects, those who attended the after hours event learned a little more about other events being planned in Sunnyside.
Sunnyside High School senior Lizeth Chiprez asked the chamber members and guests for support of her senior project. The enterprising young woman has developed a tutoring program for students preparing to take their college entrance exams.
"So many of our students need additional study with such things as vocabulary and literature in order to pass their SATs," she told the group.
This past summer Chiprez created a plan to offer after school tutoring to college-bound students using Heritage College students as mentors.
"But I need your help to purchase the necessary study books," she said.
She said she has made arrangements to purchase the books, at the cost of $5 each. "I'm hoping you will be willing to donate to this important cause," she explained.
"We plan to serve 80 students in the first year," Chiprez said, adding she hopes the program will expand in the future."
"This type of networking is exactly what we hoped the after hours program would encourage," said Tom Gaulke, president of the Chamber board of directors.
"We are hoping all of those who attended this first event will be come Chamber members, if they aren't already," he added.
The next Chamber after hours program will be held at the Sunnyside Worksource office in the Mid Valley Mall on Tuesday, Sept. 28. Jessie Hernandez will provided a short program on estate planning, following a tour of the state employment and training service office.
More like this story