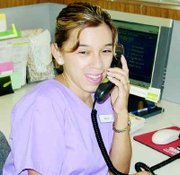 A term of service in AmeriCorps led Sheila Cerda to her present occupation.
"I learned about being a receptionist while volunteering in the AmeriCorp service," Cerda explained.
"I worked at the Sunnyside Police Department for a while, I learned to do dispatching," she said.
But it was a volunteer position at Sunnyside Community Hospital which led her to her present employment.
"I volunteered as a receptionist at the hospital for about a year," she explained. "When my AmeriCorps term was up, the hospital hired me as a receptionist," she said.
Currently, the petite mother of two works three days a week as a technical assistant in the X-ray department at Sunnyside Community Hospital, and one day a week she works as a front desk receptionist at Sunnyside's Lincoln Avenue Family Medicine Center.
"The technical assistant title means I'm a receptionist," she grinned. "But I also get to do other things like moving files between departments, help with patients and do a lot of data entry," she said.
Both of her jobs involve a lot of paperwork, in addition to greeting patients with a cheerful and compassionate attitude and her welcoming smile.
Between her two jobs, she works an average of 40 hours a week, she said, noting that her X-ray department job has her working three 10-hour days while her Lincoln Avenue job has her working a regular 8-hour day.
At the family health clinic, Cerda answers phones, schedules patients and helps patients check in for their visit with the clinic's physicians.
"I really like the work," she smiled.
The 1989 Sunnyside High School graduate and her husband, Francisco Cerda Jr., have two children, a daughter, who will be 13 in a few days, and a 5-year-old son, who is a kindergarten student this year.