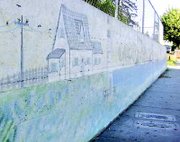 Thanks to an agreement with the Washington State Department of Transportation, Yakima County officials plan on installing guardrails along three bridges and a small section of Nagler Road.
The guardrail installation project includes placing a guardrail along a South Naches Road bridge, at two bridge locations along Yakima Valley Highway and along a short stint of Nagler Road. The bridges along Yakima Valley Highway expected to get guardrails include a small bridge crossing a Sunnyside Valley Irrigation District (SVID) canal near Schooley Road and another bridge crossing an SVID canal near Zillah Heights Road.
The estimated total cost of the guardrail project is $146,250, which includes $86,625 in federal funds and $59,625 in county funds.