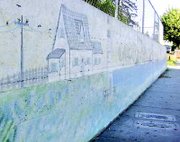 Several years ago after a rash of graffiti marked a small brick wall on Fourth Street in Sunnyside, the residents of Sunnyside Manor I, wanting to make a difference in their neighborhood, got together and commissioned a scenic mural to be painted on the wall across the street from the apartment complex.
Waking up Wednesday morning, some of the residents looked out their windows to see black streaks of graffiti marring the lighthouse and ocean themed mural.
"It made them all really sad, said Jackie Vaughn, apartment manager.
"A few years back this happened all the time, so the tenants of this complex paid a man $150 to paint the scene over there," said Vaughn.
She said the residents collected the money to pay the artist.
"This is low income apartments, so no one had much money to pitch in, but they all gave hoping the painting would end the graffiti," said Vaughn.
She explained that for years the graffiti was painted over repeatedly, but it always returned. When the residents of the apartment took on having a mural painted, the idea put an end to the graffiti.
"It worked for a while. Nobody did anything to it for a long time," said Vaughn.
The mural was only one of several properties tagged in the recent spree. Several other property owners reported fences and signs also tagged.