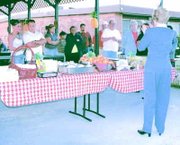 To celebrate a perfect survey from the state nursing home inspectors, the staff of Sunnyside's Hillcrest Manor nursing home and rehabilitation center enjoyed a Hawaiian luau Wednesday night.
The dinner was hosted by the Otis Avenue facility's department heads as a giant "thank you" for doing their jobs well, said Mary Arthur, Hillcrest Manor administrator.
The off-duty employees, along with their spouses met for the barbecue on the facility's patio, where they joined periodically by the staff working the evening shift.
"We have a fabulous staff," Arthur told the more than 80 people attending the evening celebration.
"You have all worked so hard to learn how to your jobs perfectly day-in and day-out. Your diligence has paid off with our perfect survey.
"You made it happen," she said.
. Julia Hart can be contacted at
(509) 837-4500, or you can e-mail her at jhart@eaglenewspapers.com
Julia Hart/Daily Sun News
The husbands of Hillcrest Manor's department heads oversaw the proper grilling of steaks for the facility's 92 employees. Pictured are (l-R) Bill Van de Graaf, Archie McPherson, Don Ross and Bill Moore.