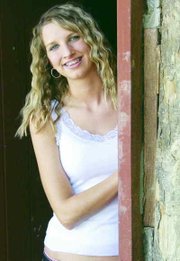 Rayann Van Beek enjoys things that bring color into her life. Things that make each day bright and filled with joy. With this in mind, Van Beek is looking at a possible career in interior design after she graduates from Sunnyside Christian High School in a couple of years.
The 16-year-old Sunnyside Christian junior will be hoping to add her shade of color to the 2004-05 Miss Sunnyside Court. She is one of eight young ladies vying for the title of Miss Sunnyside during the annual pageant held in conjunction with the community's Sunshine Days festivities Saturday, Sept. 18. The pageant is being held at the Sunnyside High School auditorium.
Van Beek is the daughter of Norma and Alan Van Beek of Outlook. She is being sponsored for this year's pageant by Sunnyside Community Hospital and the Sunnyside Fire Department.
At school, Van Beek has been involved with volleyball since the seventh grade. She has also been a cheerleader since she was a freshman.
"It was kind of like a spur of the moment thing," said Van Beek of her decision to become a cheerleader.
Van Beek said she wasn't sure at first if she wanted to try out for cheerleading, but quickly changed her mind once she became more involved.
"It is a great experience," said Van Beek. "We have lots of fun. It (cheerleading) has helped my confidence level a lot."
Van Beek also likes to showcase the animals she raises, in particular her pigs. She has been involved with various shows since the sixth grade. Van Beek enjoys showing particularly at the Toppenish livestock fair and the Yakima Valley Fair and Rodeo in Grandview.
"I just like working with animals," said Van Beek. "They (pigs) are not as messy as people might think they are."
Besides being involved with the Future Farmers of America (FFA) program at Sunnyside Christian High School, Van Beek is involved with the school's governing body.
Van Beek is also heavily involved with her youth group at the Zillah Faith Community Church.
For the past year, Van Beek has been a working young lady. She has held down a job in the kitchen at Hillcrest Manor in Sunnyside.
"I like getting to talk with the residents," said Van Beek. "They are really funny. They have a lot of history."
Running for Miss Sunnyside was something Van Beek has been wanting to do for a long time. Van Beek received a boost of encouragement from former Miss Sunnyside Rachel Jacobsen about competing for the title. Van Beek said she has always had an interest in representing the community in the role of Miss Sunnyside. Van Beek said she also decided to run for Miss Sunnyside because she viewed it as a good experience.
"It will be a good way to give back to the community," said Van Beek.
The experience of competing for Miss Sunnyside has been a memorable one so far, said Van Beek.
"It is a lot of what I thought it was going to be," she said.
Van Beek said it has been memorable getting to know the other girls competing for Miss Sunnyside, as well as learning all the proper etiquette that goes along with the pageant.
Van Beek said what she enjoys about the community is the ever-changing scenery.
"I also like the fact you can go so many places and know so many people," said Van Beek. "It is very beautiful with all the land. The people are so friendly."
If selected to the Miss Sunnyside Court, one of the community service projects Van Beek would like to adopt is working with the local fire department. One of her brothers and her dad are volunteers with the Sunnyside and Outlook fire departments. Another of her brothers is a fireman with the City of Richland. Van Beek said she knows how much help the fire department needs in protecting the community and she wants to do whatever she can to help.
"I know what a big community it is," said Van Beek. "I know how much time they (fireman) devote."
Van Beek said another program she was thinking about tackling is the Toys For Tots program.
As far as issues facing the community, Van Beek said the major problem is there is nothing for teenagers to do in Sunnyside. Van Beek said that's why the community encounters some of the problems it does with youth from time to time because there needs to be more activities.
After high school, Van Beek said she isn't quite sold on what she wants to do yet. However, Van Beek said she is leaning towards interior design or some other field of fashion.
"I am really into fashion things," said Van Beek. "I really like that."
A passion of Van Beek's is playing the piano.
"My mom made me (play)," she smiled.
Van Beek has been playing the piano since the second grade and has never looked back.
"I just like to sit down and play the songs," said Van Beek. "I could do it for hours at a time."
Van Beek said being able to play the piano is sort of therapeutic, giving her time to relax from the hustle and bustle of the day.
Van Beek said she is looking forward to the Miss Sunnyside pageant.
"I think it will be a very busy day, a very nervous day," said Van Beek.
Van Beek is looking towards her chance to shine on the stage at Sunnyside High School Saturday, Sept. 18, and the possibility of representing the community on the Miss Sunnyside Court.