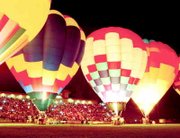 PROSSER - The Great Prosser Balloon Rally will lift off from the Prosser airport Sept. 25 and 26, with more than two dozen balloons participating in the 15th annual event.
The rainbow-colored balloons will take flight Saturday, Sept. 25, and Sunday, Sept. 26, with sunrise launches scheduled both days, weather permitting. Spectators are urged to arrive early, at about 6:30 a.m., to watch the pilots prepare the giant balloons for the sunrise lift-off.
The rally will also include the popular Night Glow event Saturday, Sept. 25, at Art Fiker Stadium. Nearly a dozen of the balloons will be anchored and illuminated displaying their vivid colors against the night sky. The night glow will commence at dusk, weather
Admission to the balloon launches and to the night glow are free.
In addition to the launches, a variety of other activities will be happening in Prosser during rally weekend. For example, the Prosser High School National Honor Society will host its annual county breakfast at the Riverview School cafeteria and Prosser senior citizens will host an "all-you-can-eat" pancake breakfast Sunday morning at the Prosser Senior Center.
Also in celebration of the balloon rally, Prosser artists will host the annual Prosser Craft Festival and Street Fair in downtown Prosser. The street fair will begin Friday, Sept 24, and will offer a variety of entertainment from pony rides to sales of original art, food and balloon rally memorabilia.
The Prosser Art Association will hold its annual Street Painting Festival Saturday, Sept. 25 and Sunday, Sept. 26.
For more information regarding the Great Prosser Balloon Rally and other events planned during the two-day event, call the Prosser Chamber of Commerce, (509) 786-3177.