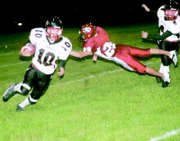 GRANDVIEW - This past Friday night's non-league encounter between the Sunnyside and Grandview high school football teams pretty much had the look of a season opening game.
The Grizzlies needed two overtime sessions to get by the Greyhounds, 32-25.
"It was quite a game," said Sunnyside Coach Mark Marro. "We did just about everything to lose it and so did they."
Marro said the contest was characteristic of a season-opening game.
"We had a lot of mistakes," said Marro. "They (Grandview) made less mistakes than us."
The two teams traded jabs back and forth on the scoreboard.
Sunnyside got on the board first when David Pacheco scampered in from 30 yards out. Grandview's J.R. Camacho countered with a five-yard TD run to cut Sunnyside's lead to 7-6.
Joe Schwartz then picked up the first of his three touchdowns on the night in the second quarter with a four-yard touchdown run. Sunnyside missed the extra point. The Greyhounds tied the game going into the half when quarterback Brandon Artz connected on a 40-yard touchdown pass to James Vela.
Grandview took a short-lived lead at the opening of the second half when Artz punched the ball in from one yard out. Greg Gilleland came right back for the Grizzlies when he scored on a four-yard touchdown run.
The game would remain tied at 19-19 to end regulation play as neither side could find the end zone in the fourth quarter.
The Greyhounds laid it all on the line in the first overtime session. Grandview scored the first touchdown of overtime when on 4th and 15, Artz and Vela connected on a 27-yard pass play in the corner of the end zone for the touchdown.
Sunnyside answered right back. The Grizzlies strung together a game-tying drive that ended with Schwartz scoring on a one-yard touchdown run.
Schwartz duplicated his feat in the second overtime, scoring on another one-yard touchdown run. The Greyhounds couldn't piece together a touchdown drive, bringing an end to the game.
Marro said Grandview excelled when the Greyhounds were able to run a couple of fade pass plays that resulted in some big yardage being gained.
Marro was pleased with the way his defense held up against the powerful running attack of Silas Hansen. Hansen was held to 58 yards on 23 carries.
Sunnyside struggled offensively, said Marro.
"We weren't clicking real well," he said. "We weren't really up to speed."
Sunnyside didn't throw the ball a lot on Friday night. Grizzly quarterback Tony Cantu was 5-for-14 for 63 yards. Marro said the reason Sunnyside didn't put the ball up that much was because Grandview was bringing tremendous defensive pressure. He also said that his team was having a lot of success pounding the ball on the ground.
Marro said Schwartz and Gilleland really stood out running the ball for the Grizzlies. Schwartz had 113 yards off 21 carries while Gilleland racked up 96 yards on 12 totes.
One area Marro felt Sunnyside stood out in was its special teams play. Marro said it was nice to have his special teams unit play well in the first game of the season. Marro especially noted the play of kicker Pete Marquez. Marro said Sunnyside really didn't have a kicker coming into Friday's game and noted how Marquez came to the forefront, hitting 2-of-5 extra point attempts.
Marro also had a lot of praise for the efforts of Pete Garza, Lucas Ramos and Daniel Escobar on the left side of the offensive line. Marro said those three players were able to open up a lot of different options on the field for Sunnyside.
Sunnyside did miss a couple of opportunities to score. Marro said early in the game, Grandview stopped the Grizzlies from scoring from the one yard line.
"We will get better," said Marro. "I am not completely disappointed."
Marro said it was huge for Sunnyside to open the season with a win.
"It is big for us," said Marro. "Even with our success last year, we came out of the blocks slow."
Marro will be looking to build on this past Friday night's success. Sunnyside (0-0, 1-0) will host Moscow, Idaho on Friday in the Grizzlies' home opener. Moscow lost this past weekend to Timberlake, a team from Northern Idaho, 32-18. Marro said on the tape he has watched Moscow likes to run a lot of spread offense and they also like to throw a lot of short routes.
"They look like real big guys," said Marro. "We will just see how we match up."