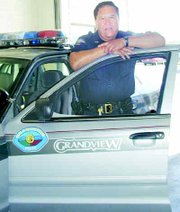 Grandview Assistant Police Chief Armando Martinez describes first applying for a job with the local law enforcement agency as a fluke, noting that he wasn't even sure he was interested in the position. Now, 34 years later, Martinez feels he has found his niche in life.
Martinez, who grew up in Carrizo Springs, Texas, a town located about 100 miles west of San Antonio, spent time working as a mechanic and at an oil refinery before moving to Washington and finding himself in need of a full-time job. Martinez said in his search for employment he found that the Grandview Police Department was looking to hire two police officers.
"I took the test, passed it and I was who they hired," Martinez said.
Martinez started his service with the department as a patrolman, working shift work. He said soon after starting with the local police department he was sent to the police academy. According to Martinez, when he started he was one of five policemen who made up the department, including the chief of police.
It wasn't until eight years later that the police department had expanded enough to necessitate hiring sergeants, and Martinez was one of the first in line to apply for the newly created position.
"I applied and got hired," Martinez said.
It was another eight years before the Grandview Police Department needed to expand even further. This time the department found itself in need of an assistant police chief.
"I put in my application and I was promoted," Martinez said.
To this day, Martinez can instantly recall the exact date he was hired as the assistant police chief - Aug. 1, 1988.
Over the years, Martinez said he has seen a lot of changes not only in the police department, but in the community of Grandview. He noted that for a long time after he was first hired he was one of the only Hispanic officers in the area. Martinez said slowly other agencies in the Valley started hiring more Hispanic officers.
Martinez said overall he has seen the department grow from five officers when he first started to the 16 officers that are currently employed by the Grandview Police Department. He noted that another change has to do with the different jobs officers are now doing. Martinez said when he started Grandview didn't have detectives, and now the department has three.
According to Martinez, the town of Grandview has also gone through a lot of changes in 34 years. He said when he first started with the department the community was only made up of about 2,200 residents.
"Over the years I've seen the city grow from 2,200 to a little over 8,000 people," Martinez said.
Overall, Martinez said that in his 34 years with the department he has found he truly enjoys being a police officer.
"I think I found my niche in life," Martinez said. "I enjoy the job I do now."
He added that he is one of the few people who can say "...I want to go to work, instead I have to go to work."
Martinez said both the city and Police Chief Dave Charvet give him a lot of leeway in his position, supporting him in what he does.
"It's great," Martinez said.
Although Martinez has already put in 34 years of service with the Grandview Police Department, he still plans on putting in a few more before he retires. Even though, the thought of life after retirement has already crossed his mind.
"Hopefully I'll be able to retire and adjust to life at a slower pace," he said.