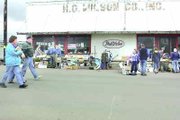 BICKLETON - Looking for antiques, books to read this winter or fresh baked goodies? Head for the hills and the fourth annual Bickleton Presbyterian Church ladies flea market, where a variety of goodies will be available for purchase this Saturday.
For the fourth year in a row the Goodwill ladies group of Bickleton Presbyterian Church is holding a flea market on Main Street in the small community.
The main thoroughfare in Bickleton will be blocked off for most of the day, Saturday, Sept. 11, while vendors peddle their wares, according to Charlotte Williams, one of the organizers of the event.
So far, 30 vendors have signed up to have booths, said Williams, but more are expected to join the group this week. The cost of a table is $10.
Williams said a metal artist from Oregon and a jewelry vendor from Vancouver, Wash. will be part of the flea market, as will local artisans and collectors.
Tables will be lined with antique and collectable treasures, crafts and bird houses, in honor of the host community that is known as a bluebird sanctuary.
She said the local scout troop will be selling wine barrels to be used as planters and a variety of food will be on sale.
The Rebeccas will have homemade pie, doughnuts and coffee available at the lodge and tamales and Indian fry bread tacos will also be available for purchase.
"We have a lady who will be selling books this year," Williams added.
In conjunction with the flea market, The Hen's Nest gift shop will be open that day.
Williams said that vendors are still needed for the flea market.
"We're hoping to have someone with fresh fruits and vegetables," she said. "Maybe they have apples or pears or fresh corn. Whatever is out now."
"We wanted to sponsor a flea market so it would have a variety of everything," she added.
After having a battle with the weather at the last flea market held more than a year ago, the Bickleton church ladies decided to move the annual event to the fall.
"It looks like we're going to have good weather this year," said Williams. "Maybe we won't have the rain and hail we had last time we had it in the spring."
The flea market begins at 8 a.m. and will run until vendors decide to shut down for the day, said Williams.
"Early morning a crowd comes through and it's very busy," said Williams. "After lunch it begins to slow down."
The flea market was started as a fund-raiser to help build a new Sunday school building for the church.
Besides the $10 fee, which goes directly to advertising, in past years the ladies asked each of the vendors to give 10 percent of their earnings at the flea market to the church. This year, Williams said, it will be optional.
Any money donated to the church will benefit the local congregation.