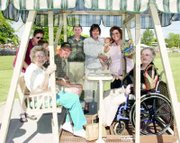 These days when Grace Zaun takes her daily stroll through the gardens at Hillcrest Manor, she will be able to rest for a spell near a very special reminder of her family's love.
The Sunnyside health care facility resident was surprised on her 87th birthday with a party held this past Saturday, that included the gift of a wheelchair accessible whisper glider swing.
Now confined to a wheelchair to get through the nursing home halls, Zaun still enjoys a turn around the facility's lawns from time to time. The glider is expected to quickly become her new favorite destination, according to her sister-in-law, Margaret Slater of Richland.
Slater said Zaun's family contributed $4,000 toward the purchase of the specially equipped swing, which has been given to the health care facility both as a present to Zaun and as a memorial to her life.
The glider now rests at the end of a boulevard-style pathway in the center of Hillcrest Memorial Park, giving residents a panoramic view of the park.
"We're happy to be doing this for Grace as she has always managed to look at the bright side of things," said Slater.
Her optimistic personality has endeared her to her family and friends alike, said Slater.
Grace Slater Zaun, who was born Sept. 4, 1917 in Tabor, S.D., attended a one-room school house, Slater said.
In many ways her life is similar to John Steinbeck's story, The Grapes of Wrath. Her family was caught in the Dust Bowl of the late 1930s and was forced to abandoned their farm, Slater said.
"Grace and her family loaded their possessions on their truck and traveled all the way across the country from South Dakota to Washington state.
"Her brother Robert entered the military service at that time and served as an officer in the Asian Theater in World War II," Slater said.
The Richland woman said the Slater family eventually settled in Cle Elum, where Grace met her future husband, Rudy Zaun. After living in Texas for a time, where the couple raised two sons, they returned to Washington state.
The Zaun family resided in Richland for a number of years before finally coming to Sunnyside. Zuan's husband was the manager of the Sunnyside Thriftway store until his death in 1965.
Slater said that tragic event altered Zaun's role from homemaker to working mother with one son in high school and the other serving in the National Guard.
"With equal bravery, she faced a second tragedy when she lost her younger son, Ronald, who was a Vietnam war veteran," said Slater.
Saturday afternoon, surrounded by her sister-in law and nieces and nephews, Zaun enjoyed a chocolate birthday cake, her favorite, and spent time reminiscing about days gone by.
"This has been so much fun. I think I'll have a bunch more birthdays," said Zaun.
"We hope she enjoys this for many years to come," agreed Slater.