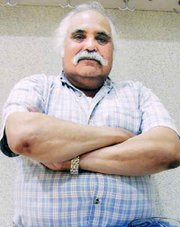 GRANDVIEW - Karate. Many people misunderstand the purpose of the mystical sport of martial arts. Some people don't respect it while others have found that it has a place in their lives.
Olegario Luna is one of the latter.
Luna, 59, studies the system of Doshinkan Karate.
Luna was born in Mexico and came to the United States when he was 1-year-old. He was raised in Texas until he was 12. In 1960-61, Luna and his family moved to Prosser, where they purchased property. Luna's family, though, would migrate to different areas in the country to perform farm labor. Being part of a migrant farm labor family, Luna was forced to drop out of school because he couldn't keep up with his education.
Luna would come to meet his wife, Anjelica, in his early adult years. The couple has been married for 32 years, living in Prosser. They have one son, Angel, and one daughter, Rebecca, both of whom have graduated with college degrees.
"We were very proud to see they finished school," said Luna.
Luna took up karate 35 years ago in Prosser.
"I used to have a friend in Prosser who got me involved," said Luna.
The first place that Luna trained was in the basement of the Prosser Methodist Church. Luna said the group eventually moved to the Tri-Cities to follow their trainer. Luna joked that when he first started training people would tease him that he was too old to take up karate at the age of 25, which was considered a late age to start.
Luna said karate has taught him a lot personally.
"It taught me to be kind of a leader," said Luna. "It gives me a lot of self-confidence.
Luna said when he started karate one part of it he liked was how everyone seemed like a part of the each other's family.
"I have met a lot of interesting people in karate," said Luna.
Luna touched on how karate has changed over the years. He said when he first started his teacher didn't believe in attending karate tournaments. He also said there were only three colors of belt when he started, which were white, brown and black. Luna is a sixth degree black belt.
For the past 25 years, Luna has been teaching karate/self defense classes for the Grandview Parks and Recreation Department.
As an instructor, he focuses on training, not teaching.
Luna said he still remembers his first class.
"We had a lot of young people turn out," said Luna.
He said the large group quickly dwindled down when participants realized it wasn't what they thought it would be. Luna said a lot of people went into the class thinking they would be flying around doing all the karate stuff they see in movies. Luna said his first class dwindled from 25 participants to two.
For the past 20 years, Luna and his friend Sunnyside jeweler Dale Beck have been training together, developing a strong friendship. Beck has obtained a seventh degree black belt.
Karate has taken Luna many places in life. He has gone to Mexico, Hawaii and Japan to train with different teachers.
Luna said he enjoys teaching karate, but uses the opportunity to train and work on his skills. As a teacher, Luna said he teaches his students to strive to be a better master of karate than he is. Under the system Luna trains in, students learn to study karate on more of an individual basis.
"The system is to make you stronger," said Luna. "Make your body as powerful as possible."
Luna teaches karate classes year round for the Grandview Parks and Recreation Department. Luna said that he doesn't care if he has one student or 20.
"As long as there is one person who shows up, I am here," said Luna.
Luna said he simply enjoys teaching students who want to learn his style of karate.
Luna tries to teach his students to never start problems and that karate is only to be used to defend yourself. Luna said he remembers one of his teachers telling him that with karate a person can do two things. First, karate can be almost always used to help a person talk their way out of a problem. Secondly, karate can be used to help a person never get into a situation where they would have to use it.
There are a couple of misconceptions Luna would like to clear up about karate.
"You can't go by what you see in the movies," said Luna. "It is not that way at all. Karate is more about training than fighting. That is the disciple of it."