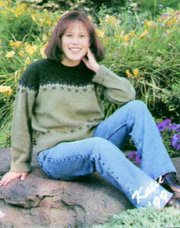 When Katie Gonzalez discovered a lingering cold had become something much more serious, the former Sunnysider called on her family to lend support. Her parents, Fred and Mary Alice Gonzalez of Sunnyside, have been staying with their daughter while she battles Primary Progressive Hodgkin's Disease, a type of cancer that attacks the lymphatic system.
Later this month, the 1999 Sunnyside High School graduate is preparing to undergo tandem stem cell transplant to reverse the damage caused by the disease.
According to close friends, the young California real estate agent has been off work since April, fighting the disease.
In an effort to aid Gonzalez, her friends are organizing a bake sale to be held Saturday, Sept. 18, at Centennial Park in downtown Sunnyside.
"We have also set up a savings account for Katie at Yakima Federal Savings in Sunnyside," said Janet Smith, the mother of two of Gonzalez's close friends, Emily and Abby Smith.
Currently, Gonzalez, who lives in Los Angeles, is undergoing two sessions of chemotherapy and radiation, which follow procedures to harvest her own cells in preparation for the transplant procedure, Smith said.
Once the operation is completed, Gonzalez will undergo up to six weeks of recuperation in total isolation in order to protect her compromised immune system.
"People can donate directly to the Katie Gonzalez account or they can participate in the bake sale," Smith said.
The bake sale, to be held during Sunshine Days at the corner of South Sixth Street and East Edison Avenue, will be from 10 a.m. to 1 p.m., Smith said.
People who want to help with the fund-raising efforts may call Smith at 837-6130.