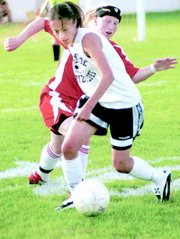 The Sunnyside High School girls soccer team lost to East Valley 2-1 Thursday evening in the first game of the season.
The non-league game, which was played in Sunnyside, was a good showing for the team, said Coach Kathy Jolliff.
"We're pretty excited about it," she added, explaining that East Valley finished second in the 2A state tournament last year.
"Our short term goal was to have a good showing with East Valley," she said. "Last year we felt like East Valley walked all over us."
With only 11 varsity players eligible for the first game because of a lack of practices, Jolliff said her team had to play through injury and fatigue.
"East Valley had 19 or 20 people so they could switch out, but our girls just kept playing," said Jolliff.
It was at about the 38 minute mark, just before halftime, that East Valley scored its first goal.
"We were down a player when they scored," said Jolliff.
East Valley's second goal of the night was a questionable score, coming in the first few minutes of the second half.
"The line judge was wanting to call it back, but the center judge, who has final say, said it was good," said Jolliff.
In the 25th minute of the second half Sunnyside center mid-fielder Yanet Candido scored the only goal of the game for Sunnyside.
"We were in front of the goal and had taken a couple of shots," said Jolliff.
Sunnyside's Victoria Garza brought the ball back from the goal, and passed it off to Candido for the assist, said Jolliff.
The Lady Grizzlies have high hopes this season.
"We really only lost a couple of starters from last year," said Jolliff. "The girls have already set their sights on having one of the top three spots in the league."
Jolliff said that in Tuesday's game the girls all did well playing through injuries and working together as a team to hold the East Valley team to just two goals.
"They did an outstanding job," said Jolliff. "They all sucked it up and kept playing. It was a great team effort."
Sunnyside (0-0, 0-1) is scheduled to open Mid-Valley League play next Tuesday at home against Ellensburg.