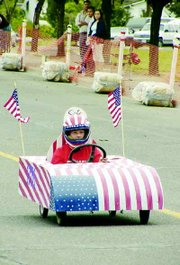 GRANDVIEW - Nearly 30 people participated in Grandview's annual soapbox derby race, which took place this past Saturday.
The crisp, fall morning was filled with excitement as people from throughout the Lower Valley came together to test which of the myriad of different soapbox derby racers would come out on top.
The 22 cars entered in the five different race divisions each took their turn racing down Grandview's Euclid Road along the edge of Dykstra Park.
Taking home awards from the local soapbox derby was Grandview City Councilman Bill Flory, who beat out Sunnyside Mayor Ed Prilucik in the Celebrity 500 division to earn first place honors. In the corporate division, Jack Hollmeyer of Hollmeyer Farms earned first place honors. In the adult division, the Hollmeyers dominated with Jack Hollmeyer earning first place honors and Sheri Hollmeyer coming in second. Pete Garza rounded out the top three in that division. In the youth green division, which featured the faster youth competitors, Kendra Hollmeyer finished in first place, Kennedy Sarmiento finished in second place and Anthony Rodriguez took third place. In the youth blue division first place honors went to Briana Nettles-Biggs, second place went to Marissa Leigh Boob and third place went to Rosa Garza. The best of show award went to 12-year-old Cole Still, who was driving the Patriot.