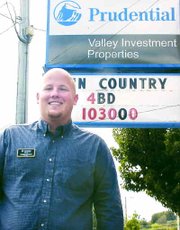 Things are changing in the life of Sunnyside Young Life director and newest member of the Prudential Valley Investment Properties staff Tom Dekker. Dekker recently started working at the local real estate office and is looking forward to helping families purchase homes in the Lower Valley.
Dekker, who has been with Young Life for 10 years, recently found his position with the local non-profit organization cut back to part time, meaning that he was in need of another job that would give him the flexibility needed to continue his work with Young Life.
"Nothing has changed as far as Young Life is concerned," Dekker said.
Dekker, a 1993 Sunnyside High School graduate, said working at the local Prudential office means he has a flexible schedule and the opportunity to get out into the community and help a different group of people. He explained that through Young Life he has had a chance to meet and work with area teens, but his new job with Prudential gives him a chance to get out and meet adults in the community.
Working with local families, helping them find homes is something Dekker is looking forward to. He added that he feels home ownership is a great way to develop a sense of community pride.
"The best way to improve the Lower Valley is by helping more people own their own homes," Dekker said.
Dekker, who started taking real estate classes in mid-June, received his real estate license in August. He explained that although he is an independent contractor at Prudential his first day in the office was Sept. 7. He added that he was doing prep work for his new position about a week before he came into the office.
Dekker said one of the reasons he decided to go to work for Prudential was because he felt the local real estate company has a great reputation in the community.
Since coming aboard at Prudential, Dekker said he has been busy, adding that he has already shown his first property. Despite having already gotten off to a busy start, Dekker said he is looking forward to working with more local families and is especially looking forward to helping first time home buyers purchase their first home.
Dekker said at this point he thinks the hardest part is going to be the interim period between getting started in real estate and being successful, although he noted that he and wife, Melissa, are committed to his new career.