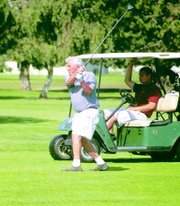 Ty Schatz's hobby is collecting birdies. Not parrots or canaries, the types you keep in a cage in your living room. Rather, he picks up his birdies on golf courses.
This past weekend in the 2004 Banana Belt, Black Rock Creek's most prestigious golf tourney of the year, Schatz collected nine birdies. They helped him to soar to this year's title.
Schatz, who's attending Washington State University and is scheduled to graduate this December, knocked down five birdies on Saturday enroute to posting an opening day best one-under 71. That gave him a slim one-stroke lead over Sunnyside's Bob Hall heading into Sunday's final round.
The eventual winner, a 1999 Sunnyside High School graduate, was still clinging to his one-stroke lead over Hall through 12 holes of play on Sunday. But when Schatz went birdie-birdie on 13 and 14, and Hall could only muster a par and double-bogey on the two holes, Schatz widened his gap over Hall from one stroke to five.
Parring three of the four final holes, absorbing a double-bogey hick-up on the par-3 17th, Schatz cruised to the easy win. He finished the 36-hole affair with a one-under 143 (71-72). Hall, the runner-up, was five strokes back with a 148 (72-76).
Keith Grace and Robi Raab, both playing with Schatz and Hall in Sunday's final group, tied for third low score of the tourney. They each shot five-over 149's.
Raab, whose credentials include both Banana Belt and Yakima Valley Amateur titles, posted the third low score of the day on Saturday, a one-over 73, but he quickly fell out of contention Sunday. A triple-bogey on the 210-yard, par-3 second hole put him four shots back of Schatz. He slipped back another stroke on No. 3 when he parred the hole and Schatz birdied it. A bogey on No. 6, the toughest hole on the Sunnyside course, put Raab six strokes behind Schatz. Raab played even-par from there, but the damage had already been done.
Grace, a member of Toppenish's Mt. Adams Country Club, opened this year's Banana Belt with a two-over 74. The three-shot deficit he took into Sunday's play quickly grew to five strokes, as he bogeyed and double-bogeyed the first two holes. The closest he got to Schatz was four strokes, when he birdied the par-3 12th.
Hall, deemed by many as the best golfer of all the current Black Rock Creek members, fell from one shot back of Schatz to three behind at just past the midway point of the opening nine on Sunday. Schatz opened the three-stroke lead by posting a par and birdie on 6 and 7 while Hall took a bogey and par, respectively. Hall rebounded to match Schatz with pars on the next three holes, then made it interesting by scoring a bird on the dogleg-right 11th hole. With Schatz taking a bogey there, all of a sudden Hall was back to being down by only one.
The two linksters both parred the short, par-3 12th. But when Schatz posted back-to-back birds on 13 and 14, and Hall didn't respond accordingly, the handwriting became clear that Schatz was in control.
Sunnyside Christian High School senior Andrew Schutt, 18, hung with the big dogs Saturday, skating through the first 18 holes with a two-over 74. Perhaps feeling the pressure of his first ever "adult" tournament, Schutt faltered on Sunday, settling for an 83. His two-day total of 157 left him with the ninth best tourney score.
Yakima's Wes Campbell, a seasoned veteran on many of the state's top golf courses, posted solid numbers in finishing with the fifth low score from the 60-person field. Campbell had rounds of 75-77 (152). Ivan Porcayo, another Yakima area golfer, had the sixth low two-day round (77-76-153).
In the Banana Belt's Rainier Flight, for golfers with handicaps of 14 and above, Sunnyside's Phil Luther claimed top honors. Luther carded rounds of 84-85 (169) to best the next closest finishers by eight strokes. The runners-up were Craig Boge and Bob Hicks, each of whom had two-day totals of 177. Ken Ott and Jim Schlenker were a stroke back with identical 178's.
Golfers who cashed on the net side (actual score minus handicap) included: (Concord Flight)-1st-Ken Harle 139, 2nd-(tie) Keith Grace & Robi Raab 141, 4th-(tie) Tom Diener & Ivan Porcayo 143, 6th-Pete Veliz 144; (Rainier Flight)-1st-Bob Barker 141, 2nd-Ken Ott 142, 3rd-Dan Kolb 144, 4th-Dan Clark 147, 5th-(tie) Keith Miller & Steward Rogers 149.
Flag prize winners included: (Saturday) long putt on No. 1-Bob Rice (26-2), KP on No. 3-Willie Edwards (0-6), KP on No. 4-Joe Herber (6-5), long drive on No. 7-Rick Pedee, KP on No. 9-Mike Nichols (11-4), KP on No. 11-Keith Grace (2-4), KP on No. 12-Ty Schatz, KP on No. 17-Jack Syverson (9-3); (Sunday) long drive on No. 3-Ivan Porcayo, KP on No. 5-Dennis Burke & Joe Herber (chip-ins), KP on No. 6-Bud Schatz (5-9), KP on No. 9-Robi Raab (1-0), KP on No. 12-Ivan Porcayo (4-10), KP on No. 13-Travis Davis (1-6), KP on No. 14-Dennis Burke (0-5), KP on No. 17-Ivan Porcayo (3-1).