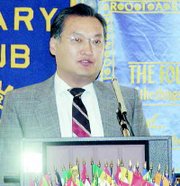 Health nights for women have become a common event, but so far men's health discussions have been few and far between. But, helping to bring light to one of the leading causes of death among men is Dr. Robert Kim, a Sunnyside urologist.
Speaking to the Sunnyside Noon Rotarians this past Monday, Kim injected a touch of humor into the sensitive health issue of prostrate cancer, a disease that impacts one out of six men.
Kim said prostrate cancer, the second leading cause of death among men in the United States, has little regard for age.
"Men in their 50s or 60s are nearly always diagnosed with some form of prostrate health issues. But men in their 30s can also suffer the effects of the diseases that attack the prostrate gland," Kim explained.
"If your father or brother was diagnosed with prostrate cancer, you very likely will be as well," he said.
But the good news is that with a simple 10-minute early detection screening, the devastation of the cancer can be lessened, Kim said. Early detection greatly increases the survival rate from the "man-only" disease.
"In addition there are a number of highly effective treatment options available for those men diagnosed with prostrate cancer, from surgery to remove the tumor, radiation and chemotherapy," he said
"Prostrate cancer is curable if detected early," he said.
"Your chances of being diagnosed with prostrate cancer goes up as you get older," Kim said.
He described the cancer as a slow growing tumor that is the result of heightened levels of a protein enzyme in the prostrate gland.
Kim said all men, regardless of age, family history, race, environment, diet or hormone levels should definitely undergo the PSA (prostrate specific antigen) screening. The PSA screening measures levels of a protein that impacts prostrate health.
Kim said the disease kills more than 30,000 men a year, but thanks to improved medical research and treatment options the survival rate has risen from 67 percent to 97 percent in recent years.
"Like many cancers, if detected early, survival rates go up," he said.
Kim said that men can do something now to decrease their chances of getting the disease.
"Changes in diet, weight and exercise can all help to lower the incidents of getting prostrate cancer," he said.
"Simple things like exercising 30 minutes, four times a week can help to increase the natural killer cells in your immune system which attack cancer cells," he said.
Some supplements will help, too, especially vitamin E, Kim suggested. "The vitamin will not only help decrease the possibility of prostrate cancer, it will help your cardiovascular health and reduce your chances of impotence," he said
"And you don't have to take a lot of vitamin E for it to help," he said.
Kim said Yakima Valley men have a lower frequency of prostrate cancer than Seattle men. "That is because we get more Vitamin D from our sunshine, another necessary ingredient in the fight against prostrate cancer," he said.
"So do that 30 minutes of exercise outside," he added.