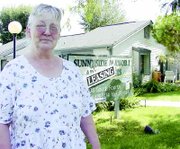 Managing an apartment complex for senior citizens and disabled persons is more than just gathering the rent and making sure the toilets are working. It's finding activities for the residents of her complex and providing them with services.
Since March, Jackie Vaughn has been the manager of Sunnyside Manor I, a complex for senior citizens and the disabled, which is located on Fourth Street in Sunnyside. She previously managed a complex for the same company that owns units in Cle Elum.
"I was tired of the deep snow and the wind blowing all the time," said the San Bernardino, Calif. native.
She had been the manager of the Cle Elum complex for seven years, but before that she managed a senior citizen's center in the town.
"I was the manager of a senior center in Cle Elum and the Cle Elum complex my mother lived in lost their manager," said Vaughn. "I liked all the people there, so I thought I'd give it a try."
Besides taking the rent and supervising the maintenance person, and making sure everything is working and safe for the residents, Vaughn also schedules activities for her residents.
She said she lets the residents know of activities going on at the senior center and of other community events they might be interested in.
Vaughn, who is a trained instructor with the American Red Cross, said she hopes to hold Red Cross seminars for the residents of the complex. She also led a Hospice bereavement group for five years, before moving to Sunnyside.
"I'd like to get ahold of the services already out there and see how I can help them and bring things back to my residents," said Vaughn.
Vaughn's mother was a factor in her move to the Cle Elum area. Vaughn had been living in Alaska for 15 years, where she sold commercial fishing boats and licenses.
"I was a secretary by education and experience, when I went up there," said Vaughn.
She began working for a boat brokerage as the executive secretary.
"They would send me to villages with paperwork to be signed and I started selling boats," she said.
"I would fly in small planes and they would drop me off on the beaches and I would walk into the villages," said Vaughn. "I'm a chicken about every animal in the world, and I had an upclose and personal experience with all of them in Alaska."
Because of the Jones Act, only United States citizens are able to purchase larger boats manufactured by American companies. But she would find Russian villages in Alaska that would want to purchase the larger boats. Rather than turning them down, Vaughns' employers had her teach them citizenship classes as part of her job.
When her parents became ill, Vaughn moved to Cle Elum, where they were living.
Accepting the job in Sunnyside, at first, Vaughn was unsure her mother, who lives next door to her at Sunnyside Manor I, would come, but when they drove down to pick up the keys to the complex, Vaughn said her mother could breath better in Sunnyside.
"The wind is always blowing in Cle Elum, so she had a hard time breathing," she said.