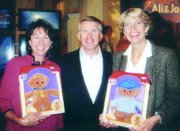 ELLENSBURG - It's made of soft, tan polar fleece and when warmed in the microwave oven it gives off a scent of fresh gingerbread. The Cozy Cookie is the innovative doll/heating pad created by best friends and Ellensburg residents Mollie Edson and Jane Wright.
Designed originally for children, Edson and Wright have found that their creation has been a favorite for young and old alike.
The idea for the Cozy Cookie began a few years ago as they began making rice filled warming pads as gifts. The dolls were originally created for their own children, but since have become a sensation. The dolls soothe aches and pains and provide warmth.
The plush dolls are filled with gingerbread scented rice and when microwaved for about 45 seconds produce a soothingly warm and hugable doll alive with gingerbread scent. They stay warm for about an half and hour.
Edson and Wright, founders of The Edson Wright Company, started with a square piece of material filled with rice. Hoping to make the rice sacks more cuddly, the women thought they would make them cute, but searched for an idea that could be put in the microwave without giving youngsters the wrong idea.
Rather than making the dolls in the shape of a cat or a bear, they decided to make the 11" tall Cozy Cookie.
With the help of retired toy designer Allison Katzman, the women were able to create professional prototypes to be presented to manufacturers.
Since starting their company, the women have been committed to providing Cozy Cookies for underprivileged and sick children through their "Baker's Dozen" program. For every 12 cookies sold a cookie is donated to children who are ill or in crisis in hospitals, homeless shelters and foster homes. The Edson Wright Company also has a means to purchase Cozy Cookies for the sick and disadvantaged through their website, www.cozycookie.com.
"Children, as well as adults immediately love Cozy Cookie and want to hold it close," said Wright. "It's very therapeutic."
Each cookie comes in a gingerbread house-shaped box with "The Cozy Cookie Story" book.
The Cozy Cookie has received national and international acclaim.
In 2003 it received the Good Housekeeping Seal of Approval and this past summer The Tonight Show's Jay Leno drew more attention to the toy when he poked fun at the Cozy Cookie.
The Cozy Cookie has also been chosen by the American Specialty Toy Retailers Association as one of the top toy picks at the American International Toy Fair. It was also named the "Cuddle of the Year" at the Sea Side Show in Oostende, Belgium.
The Cozy Cookie has been tested in the United States and Europe and is suitable for all ages. The cookies come wearing a blue collar, a pink collar, a striped sweater or a plaid vest.