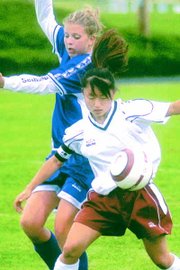 GRANDVIEW - Tuesday evening, Grandview found itself going up against Connell High School, the defending 2A State championship soccer team.
"I expected it to be a challenge," said Grandview Coach Anne Holden.
Despite the final 4-1 score, which left Grandview with a loss in its league opener, Holden said she was happy with the Lady 'Hounds overall performance.
"The mid-field was really competitive," Holden said. "We matched up really well."
The Lady 'Hounds managed to keep the Connell team scoreless until the 18th minute of the first half, when the first goal of the game was scored by the Eagle's Lauryn Kolezer, who was assisted by Coriann Wood.
Holden said the scoreboard stayed the same, with Connell having a 1-0 lead, until the last few minutes of the first half. She said in the 38th minute Connell's Wood scored a goal against the Lady 'Hounds. Wood's goal was assisted by Marilyn Cortez.
Going into the second half two goals behind the Connell team, the Grandview team stepped it up. The Lady 'Hounds even managed to push forward despite an injury to their team captain, Kayla Carpenter.
Despite the Greyhound's efforts, the Connell team scored again. Connell's Kolezer broke away from the pack to score unassisted in the 52nd minute of the match-up.
It wasn't until the 67th minute of the game that Grandview answered back. Scoring Grandview's only goal of the match-up was Ai Tomizawa.
Holden said the last goal of the game was scored by Connell in the last few minutes of the second half. She said Connell's Britney Cottrell scored unassisted in the 77th minute of the game.
Holden said overall she was happy with her team's showing against Connell. She said despite the 4-1 final score, the game was not completely one-sided. She said Connell had 15 shots on goal, compared to 8 from Grandview. She said Grandview goalie Jessica Rodriguez managed to save 11 shots on goal, while Connell's goalie, Laurin Eppich, was able to save 7.
The Grandview High School team (0-1, 0-2) will take to the field again Saturday at Naches.