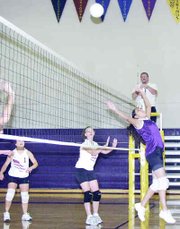 MABTON - The Mabton High School varsity volleyball team pulled it together Tuesday night, playing tough against the team from Sunnyside Christian High School.
The Lady Vikings swept past the Sunnyside Christian team, winning all three games by scores of 25-17, 25-11 and 25-18.
"We're starting to hit the ball, plus the serving was great last night," said Mabton Coach Olivia Mendoza about her team's performance against the Lady Knights.
Mendoza noted that the Mabton team did get off to a slow start, adding that the team still has some little things it needs to work on improving.
However, by the time the Lady Vikings stepped into the second game of the night, they were all warmed up and ready to go. Mendoza said it was in the second game that things started to come together for the Lady Vikings.
"It seemed like they started working together more," Mendoza said. "They were talking and when they do that things start to work a little better for us."
On the Sunnyside Christian High School side of the net, Lady Knights Coach Andrea Dobson said she had several players who were in new positions Tuesday night. She added that the Lady Knights also weren't moving well against the Mabton team.
"We needed to talk more and be more aggressive to the ball," Dodson said.
She added that although the Lady Knights could have been more aggressive, the team did have some nice passes and some good hits during the game.
Mendoza added that the Sunnyside Christian team also sent some pretty good serves Mabton's way. She said the Lady Knights also seemed to cover the floor well.
Helping push the Lady Vikings past the Sunnyside Christian team was junior Alida Mendoza. According to the coach, Mendoza had a pretty solid night all the way around.
"She was really strong at the net with hitting and blocking," said the Mabton coach. Mendoza had 7 kills, 3 aces and 2 blocks for the Mabton team.
Also playing well for the Lady Vikings were sophomore Josie Chase, who had 17 assists; Rosa Reyna with 8 kills and 4 aces; and senior Jessica Prieto with 8 kills and 4 blocks.
On the Sunnyside Christian side, Jessica Schrotenboer had 4 aces, 8 kills, 12 digs and 2 blocks; Chelsey Jones had 3 aces, 5 kills, 6 digs and 4 blocks; Courtney Rice had 2 aces; Katie Schneider had 2 digs; Abby Berkompas had 3 aces, 2 kills and 10 digs; and Tori VanWingerden had 4 aces, 18 assists and 1 block.
The Lady Vikings will take to the court again Thursday against Klickitat and the Lady Knights will play their next match Friday against Lyle. SCHS's Thursday night game against Thorp was canceled.