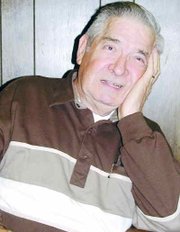 Just as he was quietly going about enjoying his well-deserved retirement, Don Cole finds himself in the spotlight again.
The long-time Sunnyside newspaper publisher has been selected by the Sunnyside Chamber of Commerce to lead the 38th annual Sunnyside Sunshine Days Parade, Saturday, Sept. 18, as the event's grand marshal, said Kathy Corliss, the Chamber's director of tourism and promotions.
Riding with him in the 10 a.m. parade will be his wife, Ruth.
The couple, who published and distributed The Home Reporter throughout the Lower Valley for more 12 years, put the final edition of their folksy bi-monthly newspaper to bed in December 2002.
Since that time, the couple has found time to travel to Oklahoma, Nevada and Missouri several times. "We're hoping to do a bit more traveling later this year," said the 78-year-old Cole.
Although he has been officially retired for two years, Cole still found time to write and complete a book of some of his favorite words in Cole's Dictionary of Inverted, Nonsense and Other Fractured Disciplines. He is now compiling a collection of his favorite columns published during the past 50 years, entitled Thru the Looking Glass.
Cole's many years in the newspaper industry saw him working every task in the business, from setting lead type in the 1950s to reporting the news and running the press during the 60s, 70s and 80s.
Cole began his career at the Sunnyside Sun, where he worked for 40 years. He began writing and publishing his own newspaper from his home in 1990. For a time, Cole called himself the "Valley's oldest newspaper delivery boy."
"I wrote the stories, laid out the pages and shot the photographs. Then once the paper was printed, I delivered it to stores and gas stations up and down the Valley twice a month," he said.
Known for his sense of humor, Cole always enjoyed sharing a joke and listening to the stories of the people he chose to interview.
"I've always believed every man, woman and child in the Valley has a story to tell. Some of them were just harder to get than others," he grinned.
The annual Sunshine Days Parade will be preceded by a community breakfast at the Sunnyside High School commons beginning at 6 a.m.
The parade entry judging will begin at 8:30 a.m. with the procession scheduled to get underway at 10 a.m. The route will be along East Edison Avenue from 16th Street to Central Park on South Fourth Street.