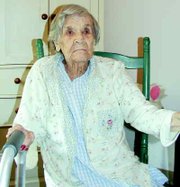 Albie Gallaway of Sunnyside doesn't see too well anymore and she doesn't like to sit up for very long at a time.
But who can blame her? After 99 years of living on this planet, she deserves a little rest and a break from the flurry of progress going on around her.
Gallaway will mark her 100th birthday this Friday, Sept. 17, and her family is planning a big birthday party for her the following day.
"I'm not supposed to know about it. But one of my nieces spilled the beans," said the resident of Just Like Home Assisted Living Center on North Avenue in Sunnyside.
Gallaway expects her three daughters and large extended family to be on hand for her 2 p.m. party.
"We told Mom she'd have to sit up for a while if she wants any birthday cake and ice cream," said her daughter, Ruby Richardson of Sunnyside.
Gallaway reckons she can sit up for a slice of cake. "It's going to be a fun party," she said.
Gallaway was born Sept. 17, 1904 in Calico Rock, Ark. She and her family moved to Washington state in 1947 looking for work following World War II.
"We came for the harvest," Gallaway said. "But we liked it here and decided to stay," she said.
A housewife most of her many years, Gallaway worked for a time at the old Marathon Company in Sunnyside, making freezer boxes, according to Richardson.
"She also cleaned the Smith Funeral Home for a time," her daughter said.
Richardson and her sisters, Fay Moody of Arkansas and Ethel Metheny of Grandview, will join Gallaway's 10 grandchildren, 17 great-grandchildren and 12 great-great-grandchildren, who plan on attending the family matriarch's centennial birthday.