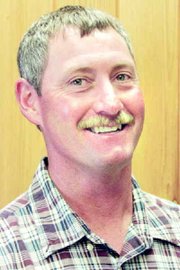 Andy Stamschror hit the ground running this week as the City of Sunnyside building department's newest member.
Stamschror, 43, has been hired as the city's building inspector, replacing Carl Ford.
On only his second day on the job, he was out looking over the construction work at the new Best Western Motel on Allen Road, and this past Tuesday he was around town inspecting other building sites.
"They (his city supervisors) are taking it easy on me, letting me get settled in," he said.
Stamschror, who grew up around the building trade, brings 23-1/2 years of experience to the city. Most of his experience was gained while working at Mt. States Const. Co. of Sunnyside, a company his father, Henry Stamschror, founded.
Stamschror said he is looking forward to working in the public sector.
"I know most of the contractors in the area and they are a great group of people," he said.
He and his wife, Sheila, have five children.