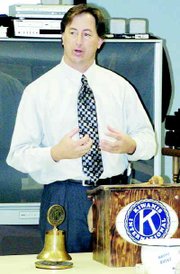 Horizon Inc. Executive Director Tom Gaulke believes that building a strong community is part of a creating a successful program for the residents of the community with special needs, such as Horizon.
Gaulke, who was the featured speaker at the Sunnyside Kiwanis Club meeting Thursday morning, spoke on Horizon Inc. and how having a strong community benefits the agency.
Horizon Inc. in a non-profit organization in Sunnyside that provides job training and opportunities for those with disabilities. He said there are currently 120 disabled people living in Sunnyside that he knows of that are in the system receiving state help or are in the school district's special education program. There may be as many as 70 additional disabled persons who aren't involved in any programs. He said those who are not part of the system are primarily Hispanic.
When Gaulke was hired as the executive director nearly five years ago the disabled workers primarily performed janitorial services for local businesses. They also recycled newspapers and cans and had a document shredding service. Today, the program which reaches from Yakima to the Tri-Cities and down to White Salmon, has people who provide grounds maintenance, lawn mowing and parking lot cleaning services.
Gaulke said they also have a growing wooden specialty crate building service.
"We build about 300 Hum-V top crates for the military," said Gaulke, who said they contract with Amtech Corporation in Wapato.
When the 12-foot by 8-foot crates arrive in Wapato they are assembled and packed by Horizon workers.
Horizon workers also work with a laundry service and music stand company, where they assemble the orchestra lights for the top of music stands, said Gaulke.
Through the program, people with disabilities are able to work, earn money and learn a skill, which Gaulke said benefits the entire community.
Gaulke said Horizon's payroll is about $2 million a year. He said the average earning for the disabled employees is about $600 a month, which he said may not sound like a lot, but it is nearly $600 a month in Social Security benefits they are not drawing.
Healthy businesses in the community ensure a healthy program for the disabled, said Gaulke, who also serves as the Sunnyside Chamber of Commerce president.
He said this year the chamber has been grappling with Hispanic businesses in town that have wanted to form an Hispanic Chamber of Commerce.
"That posed a difficult problem for the chamber," said Gaulke. "We believe having two chambers of commerce would be divisive."
After several meetings with Hispanic business owners, Gaulke said the Hispanic chamber was never formed.
"The Hispanic business owners had a belief that the chamber of commerce was the same thing as the city council and they were upset with the city council," said Gaulke.
In the past few months the local chamber has seen an increased number of Hispanic business owners slowly becoming involved in the Sunnyside Chamber of Commerce.
Gaulke said the push in Sunnyside has been towards Hispanic businesses and culture. This year Sunshine Days has been cut to one day, he said, because the chamber estimates that only about 500 people attended last year's parade and festival the three days it was open, compared to the estimated 25,000 people who came to Sunnyside for the Cinco de Mayo festival this past spring.
He said that one thing the chamber is trying to do is help educate the downtown business owners, most of which are Hispanic businesspersons, on ways to build their businesses.
One thing Gaulke said they are looking at doing is educating the business owners on the importance of signage and how to make their businesses more inviting.
"A lot of them have started their business thinking that they would be selling to those they know," said Gaulke, who added that they want to help the Hispanic business owners stay in business and expand. "A lot of the business owners sell only to their family and friends."