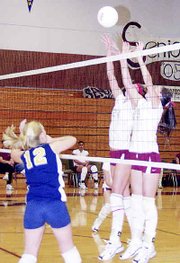 GRANDVIEW - The Grandview Lady Greyhounds managed another league win Thursday night, sweeping past the visiting Naches Rangers for a three-game victory.
The Grandview team beat the Lady Rangers by scores of 25-3, 25-16 and 25-13.
Despite dominating the Lady Rangers, Grandview Coach John LaFever said he felt his team didn't play as well as it could have.
"The score was in our favor, but there are things we need to work on," LaFever said, noting that it's still early in the season.
He said there are also a couple of players on the team who need to work on doing more for the team.
"We need to stay more focused and go through our routines," LaFever said.
Despite feeling a need for improvement, LaFever also noticed a lot of things his team did right. He said there are several members of the team who are getting used to new positions and others who have spent the summer adding new dimensions to their volleyball game, dimensions that are beginning to show out on the court.
LaFever noted that over the course of the summer senior Danelle Cowan worked on adding a new trick to her game. He explained that she typically runs a quick set, but over the summer worked on being able to slow down her tempo.
"She added two different tempos, adding multiple dimensions to her game," LaFever said. He added that it is a skill she has really improved on and one the team can utilize.
LaFever said junior Tonhya Wysong had a good game Thursday night.
"She was pretty focused and did a good job," LaFever said. "She's a real leader on our defense."
He added that Cowan, Valentina Solis, Kealey Johnston and Chante Bottineau also played well against the Lady Rangers.
Cowan had 13 kills and 5 digs against Naches, Johnston had 5 kills and 5 digs, Solis had 4 aces, 23 service points and 3 kills, Bottineau had 16 assists and 17 service points, and Wysong had 10 digs.