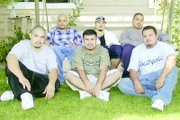 MABTON - It's just a tiny sound-proof room located just off his kitchen, but from it Jesus Prado of rural Mabton is mixing the sound he hopes will soon be rocketing him and his fellow band members to fame and fortune.
As the leader of LVK (Lower Valley Kartel), Prado is the mix master for the band's fresh hip hop sound. The rap-style music produced by the six-member band for its first CD, "Ground Up," is already attracting the attention of local radio stations.
"We have some dee jays already giving us air time late at night on Lower Valley radio stations 99.7, 107, and 98.7, " Prado said.
The radio stations are playing the group's first single, entitled "Where we're From." The rap-style song sums up the Lower Valley band's hopes for the future.
"It describes who we are and where we're from and where we hope to go," he said.
In addition to Prado, the band includes Jennifer Salazar, Felix Garibay and George Cruz, all of Sunnyside, Jose Garcia of Zillah and Jesus Barba of Granger.
While the band members don't write the music for their songs, they do share in the writing of the lyrics. "We share ideas for songs but buy our beats from sound companies," Prado said, who said the band is already working on a second CD.
"When we find a beat we like, I mix it to fit our songs," Prado explained.
The band recently performed in concert at the Pacific Northwest Tejano Music Association Show held in Grandview "We aren't the band that got into trouble for being disruptive," Prado said.
"We try to respect the nature of our audience and edit any language which might offend large venues," he explained.
In addition to playing at the Grandview concert, LVK's manager, Miquel Acevedo Jr., hopes to book the band into dance clubs as far away as Texas. "I have some leads on clubs in Dallas," Acevedo said. He also hopes to book the band into clubs in nearby Oregon towns.
"I hope to also have the band appear in other Yakima Valley night clubs," he added.
In the meantime, the band is keeping busy writing new songs, rehearsing and occasionally playing for private parties and weddings.
"We are having fun and are enjoying writing songs that explain who we are," Prado said.