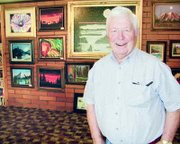 Having spent the past six years practicing various painting techniques, Dr. Harold Clark is now ready to show off his huge portfolio of artistic creations to the public.
The retired Sunnyside dentist plans to open the Harold Clark Art Gallery, 1420 E. Edison Ave., Monday, Sept. 20, to the public.
Always a very creative person, Clark began painting as a hobby shortly after hanging up his dental drills.
Since taking up a paintbrush in 1998, Clark has amassed a collection of more than 600 paintings in various styles and mediums, which until recently he has shown only to a few interested people. Clark's paintings fill every square inch of the walls of in the newly named gallery, which once served as funeral home, but also serves as the base of Clark's rental business.
Perhaps because he is running out of wall space on which to hang his many creations or because of the urging of his many friends, Clark now plans to exhibit his collection full time.
"I've had a lot of people ask about buying my work and others have suggested I open my own gallery, so I decided I would do both," he said.
Clark said the former funeral home is perfect for a gallery. "All we had to do was hang up the pictures and decorate with a few chairs for sitting," he said.
A Sunnyside dentist for more than 30 years, Clark has lived in Sunnyside for the past 40 years with wife, Barbara, who shares his interest in art. When retirement from his dental practice became necessary, Clark soon realized while he was a successful businessman, he was failure at retirement.
Always interested in art, Clark soon found himself watching old Bob Ross tapes on the educational channel. Soon he was dabbling in a variety of art forms, from using oils, spray paint and the use of three-dimensional art forms. All of his art is now on display at his new gallery.
His whole-hearted foray into the world of canvases, acrylics, oils and other medium has resulted in enough materials to tantalize the senses of gallery visitors for hours, perhaps days.
If you go to Clark's gallery be prepared to stay a while. One visit to the East Edison gallery simply won't be enough.
The gallery will be open Monday through Friday, 10 a.m. until 2 p.m. Saturday from 10 a.m. until 4 p.m.