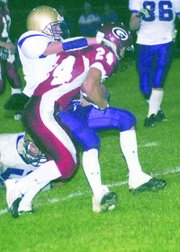 GRANDVIEW - A 13-yard touchdown pass from Brandon Artz to Matt Emerson was the only scoring the Grandview High School football team could muster against the visiting Connell Eagles last Friday night.
Connell scored just two TD's and a lone field goal, but they were enough as the Eagles hung on for a 17-7 Central Washington Athletic Conference victory.
"We had good field position three times in the second half," said first year Grandview Coach Dustin Lamb. "But we couldn't muster a drive."
The big reason for that is because Connell stuffed Grandview's rushing attack. The Greyhounds' leading rusher on the night, Silas Hansen, was only able to pick up 31 yards on 10 carries. On Grandview's seven other rushing attempts, the 'Hounds netted just nine yards.
"Connell has some big boys on the line," said Lamb. "They're tough to run against."
The win boosted the Eagles to 1-1 in conference play. Grandview slipped to 1-1 with the loss. The 'Hounds get a break from league play this coming Friday, as they travel to take on Mid-Valley League opponent Ellensburg (0-3).
The two teams played to a scoreless tie in the opening quarter last Friday, but Connell grabbed the lead in the second period on a pair of TD passes. Eagles QB Dan Nance lofted a 57-yard scoring strike to Chris Knight for the first score, then found Trevor McKay on a 17-yard touchdown pass.
Grandview cut the Eagles' lead to 14-7 in the third quarter when Artz hooked up with Emerson on a 13-yard TD toss. Artz finished the night with 196 yards through the air on 18-of-35 passing. His two favorite targets were James Vela, who hauled in eight passes for 74 yards, and Hansen, who had three receptions for 56 yards.
All told, the 'Hounds only managed 236 yards of offense. Connell got 234 yards through the air and another 104 on the ground.
"Actually, we did pretty good against Connell's rush," said Lamb. "Their leading rusher gained 130 yards, but we held the other two kids who ran the ball to minus yardage.
"Pretty much, we stuffed their run. But they went to their next option, the pass, and that did us in," he said.
Grandview never did cough up the ball to the Eagles, in terms of fumbles and interceptions, but 10 penalties whistled against the 'Hounds made sustaining offensive drives tough.
"It seemed like we were facing first-and-15 the whole second half," Lamb said.
Defensively for Grandview, defensive end Cody McMillen posted the biggest numbers. McMillen registered two quarterback sacks and was credited with seven tackles.