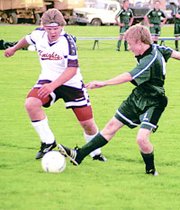 The Sunnyside Christian High School Knights nailed down a pair of victories in their home openers this past Friday and Saturday.
SCHS's boys soccer team nipped Evergreen Lutheran by a 2-1 score last Friday, then knocked off Spokane's Valley Christian squad 5-1 on Saturday.
The two wins upped the Knights' non-league record to 3-1 on the season. SCHS opens Greater Columbia 'B' League play this Tuesday at home against Moses Lake.
In last Saturday's 5-1 victory over Valley Christian, the Knights forged a 2-1 first half lead on the visitors. Junior Matt Haak scored both of the opening half goals for the winners. The first came on a penalty kick, the second off an assist from his cousin, Jordan Haak.
Sunnyside Christian increased its lead to 3-1 in the 10th minute of the second half. Senior Micah Koopmans, off an assist from Ben Dekker, blasted the ball into the net for the score. Koopmans added his second goal of the game six minutes later on an unassisted breakaway. The Knights closed out the scoring in the 66th minute of the game, as the senior Jordan Haak, unassisted, found the back of the Valley Christian net.
"The guys were passing the ball and moving very well in Saturday's game," said first year SCHS Coach Russ Smies.
His Knights dominated the play on the field, limiting Valley Christian to just seven shots on goal. SCHS goalkeeper John Bosma was credited with five saves. The Knights ended up taking 21 shots on goal against the Spokane visitors.
"We kept the ball down on Valley Christian's side of the field for much of the game," Smies said.
Friday's match-up against Evergreen Lutheran of Seattle was much tighter than Saturday's contest. The visitors took the early lead with a goal at the 18th minute mark.
Sunnyside Christian didn't take long to respond, though, as freshman Michael DeGroot scored his first ever prep goal on a breakaway, that coming in the 28th minute.
"Michael took a pass from our fullback, then dribbed past several defenders and got off a shot that found the net," Smies said.
Jordan Haak snapped the 1-1 tie 20 minutes into the second half with the first of his two goals in the two home openers.
Sunnyside Christian ended up taking 10 shots on goal against Evergreen Lutheran, compared to eight attempts by the visitors. Bosma stopped eight of Evergreen's shots.
"I was pleased with how we played," Smies said. "Towards the end of the game the momentum switched towards our favor.
"We've only played four games this season, but so far it seems like we come on stronger at the end of the games."