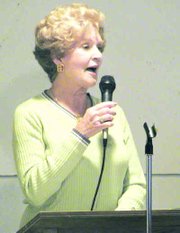 PROSSER - Lower Valley Christian Women's Club speaker Barbara Moss of Melbourne Beach, Fla. is an adventurer. Having traveled to Africa, South America, Europe, Antarctica and the Arctic, she has filled her life with adventures.
She has ridden a camel and an elephant and has been on a photo safari.
Her husband, on the other hand, is not much of a traveler, but is a good sport, she said. On one adventure while eating breakfast he went to take a bite of his breakfast and came face-to-face with a scorpion on his spoon.
But it wasn't just her travels that Moss shared with the Lower Valley Christian Women's Club this past Monday.
A native of British Columbia, Canada, Moss moved to Ontario, Canada as a young girl.
It was an October snowstorm that led Moss and her husband to sunny Florida, although she said they were lucky they weren't affected by the last hurricane to hit the state.
Moss said on her very first job as a secretary she met her future husband, Vic.
"I never wanted a career, but I stayed until I got him," said Moss.
For two years the couple dated, before they were married, she said.
"You know the old saying. 'I chased him 'til he caught me'," said Moss.
A year after the couple was married their daughter was born and two years later they had a son.
Moss said her husband was a self-proclaimed work-a-holic, who was on the road every week. Only home for the weekends, Moss made all of the decisions for the family.
"If there was a problem I tried to take care of it the best I could," said Moss.
With her husband on the road most of the time, Moss said she felt a sense of loss and emptiness in her life.
"As Irma Bombeck once said, 'I may not have had stress, but I'm sure I was a carrier'," said Moss.
Looking for fulfillment in life, she began attending a Bible study, but was unable to find the answers she was looking for. She had attended Sunday school as a child, but church wasn't something she and her husband had fit into their lives.
She said that from the outside they looked like the perfect family. A new house in a new development, happy children.
"We didn't look all that different from some of your neighbors," she said. "Inwardly, I was feeling very restless and unfulfilled."
Moving to Florida, Moss was at a meeting when she heard for the first time that she could have a personal relationship with Jesus Christ.
After the meeting Moss and her husband approached the speaker and asked if they could sometime meet with him to learn more about Jesus, and the speaker invited them to his house that Sunday.
It was there that Moss learned that all people are sinners, but sin was an old-fashioned word that she didn't believe applied to her since she wasn't a bad person and had broken no laws.
"Then I learned that sin is living as if God did not exist," said Moss.
"I had always believed in God, but I had completely lacked a personal relationship with Jesus," she said. "The Bible says without Jesus I could not come to God."
The Bible verse, "I am the way, the truth and the light, no man comes to the father but by me," that had confused her for years all of a sudden made sense, but Moss said she was still unwilling to accept Jesus because she didn't have a strong Bible knowledge and thought she would have to make new friends.
"By not doing anything, I had in effect said, no," said Moss.
Later that year, Moss met a strong Christian woman who was able to explain to her that she didn't need to make any changes because God accepted her as she was.
In March of that year she accepted Christ as her savior. Later that year her husband and two children also made the decision to turn to Christ.
"That feeling of, 'is that all there is to life?,' is gone," said Moss, adding that feelings of emptiness and loneliness have also faded away.
She said that accepting Christ was the greatest and most adventurous decision she has ever made.