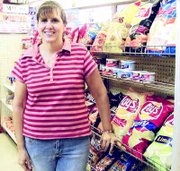 This month marks the one-year anniversary since Lisa Ramirez and her husband, Sam, purchased the Sunnyside Mini Mart on the corner of Sixth Street and Harrison Avenue.
In that time Lisa has become very well acquainted with her customers, who begin steadily streaming into the store at about 7 a.m. every morning and are faithful throughout the day.
Many of the customers walking through the door Ramirez knows by name. She knows their idiosyncrasies, what they buy, how they like the money in their wallets arranged and what time they will walk through the door every day.
"I have a lot of customers who come in every day," said Ramirez.
Most of her customers live in the neighborhood, but she said that she also has numerous out-of-town visitors coming to her business.
She said that people from Arizona, Utah and other states come to her store looking for directions or a place to eat. Some have even asked for directions to the hospital.
"It's amazing how many people visit this town," said Ramirez.
"I get a lot of people here asking where the Dairy Fair is or how to get to the winery," she added.
Despite all of the visitors, the Sunnyside Mini Mart is still a neighborhood store.
When Ramirez first bought the business, it was slow, but with a few changes, including ripping the signs out of the windows, she saw an increase in business. Through the summer there was a steady stream of business, she said.
Ramirez had a desire to own her own business for a number of years. A former medical transcriptionist and assistant for a lab, she decided then, that one day she would work for herself.
"I used to have to pick up specimens and take them to the lab," said Ramirez. "One time I had a leg. It was in the back of my car and I was afraid it was going to come back to life," she chuckled.
She took some time off before her youngest went to school, but when he stated attending classes full-time, she knew it was time to get out of the house.
Ramirez opened a book and Bible store before she bought the corner market from a friend. She had worked occasionally at the mart to help her friend, so she knew the ins and outs of the business.
"I knew she worked a lot, but I had no idea how much," Ramirez said.
She said it was a difficult decision to close the bookstore, but when the opportunity to purchase Sunnyside Mini Mart opened up she and her husband decided to try their hand at grocery retailing.
Since purchasing the market Ramirez has expanded the amount of products she carries. She has also expanded the lunch items and added breakfast tacos to the menu.