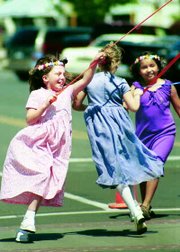 The Daily Sun News staff has earned state recognition for its outstanding efforts in photography, advertising and writing.
The staff, led by Publisher Tim Graff and Managing Editor Bob Story, were among more than a hundred Washington community newspapers staffs to be so honored at the 117th annual Washington Newspapers Publishers of Association (WNPA) convention.
Daily Sun News staff writer Julia Hart and staff, Jennie McGhan in advertising layout, and staff photographer Rod Smith, as well as the advertising department, all brought home awards.
Hart and staff received first place honors for the Daily Sun News' 2003 Home and Garden section in the special sections topical category for division II for newspapers with circulations between 2,601 and 5,000.
Contest judges praised the publication for having "an attractive cover design, effective layout, great photography, useful information and good editorial content."
A full page processed color advertisement for The Valley Market earned advertising layout person McGhan a first place award in groups I and II combined. Group I included newspapers with circulations up to 2,600.
Smith's photograph of three Sunnyside school girls dancing around a Maypole earned him a third place award for best feature color photograph. Smith's photo, judged in groups I and II combined, was described as "spontaneous."
"Great looks on the girls' faces," the judges added.
The Daily Sun News staff also picked up two second place awards in the advertising portion of the contest.
The team earned a second place award in the highly competitive Group II division for its use of space and color in a promotional group of ads for a Sunnyside merchants' Easter sale campaign, entitled "Fill Your Basket."
The DSN advertising and production staffs earned another second place award in combined groups I and II for best spot color for a "Halloween Boo-Nanza" promotion. Judges said the staff's "balance of color to black is great."
The annual Better Newspaper Contest was judged by members of the South Carolina Press Association, according to Diana Kramer, outgoing WNPA executive director.
This year more than 1,500 news stories were entered in the annual Better Newspaper Contest, along with 571 photographs, 161 special sections and 456 different advertisements.
"I was very pleased with our results. Having seen the competition and entries I know our staff is right up there when it comes to producing a winning newspaper, special sections, photography and advertising," said Graff.
"We are proud of our staff's accomplishments and of their day-to-day dedication to bring our readers a quality hometown newspaper," he said.
"It's a dedication and responsibility all of us at the Daily Sun News take seriously," he added.